HOEFT TECHNOLOGY & MANAGEMENT
TIMELINE
A look back at 25 years of The Hoeft Technology & Management Program highlights Leonard Hoeft's forward-thinking approach to business and technology in a global economy, and the people who have championed his vision to keep a growing program on the front edge of innovation.
The Hoeft Technology & Management program is launched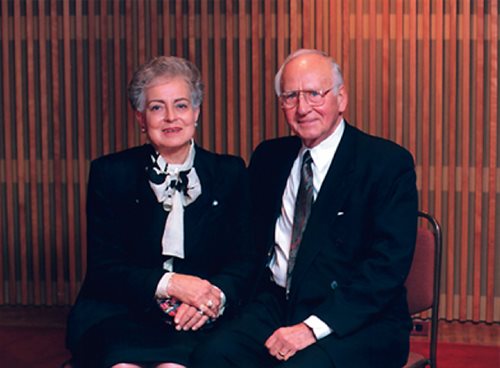 Leonard (B.S. Finance, '47) and Mary Lou Hoefts gift of $1 million, along with corporate gifts, establishes an interdisciplinary partnership between the engineering and business colleges at the University of Illinois at Urbana-Champaign.
1995
Russell Jamison becomes the program's first director
The Materials Science and Engineering professor helps get the program off the ground.
1998
George Monahan becomes the program's co-director
The Business Administration professor provides additional assistance to lay the foundation for the program.
1999
The university approves the program as an academic minor
The appointment helps elevate the T&M's Program's status as a growing number of students apply to the highly competitive, two-year program.
2000
The first Capstone Project is completed
2001
The T&M Seminar is launched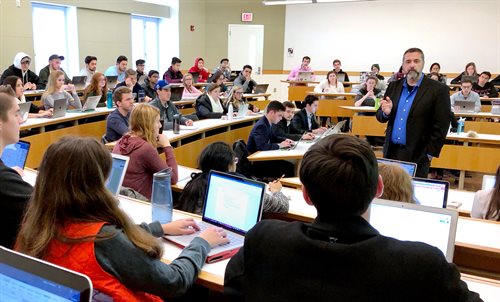 With financial assistance originally provided by GM, the T&M Seminar is launched in the fall semester to introduce second-year engineering and business majors to current topics in technology and management. Senior executives from a range of industries and functions visit campus and interact with students selected for the seminar and with current T&M students.
2003
The Hallene Lecture series is launched
A $1 million grant from the MacArthur Foundation created an endowment to honor Alan Hallene (Engineering, '51), a distinguished graduate and benefactor of the university. Lectures each semester are presented by a senior executive or distinguished scholar in the field of technology and management on a provocative topic dealing with a current issue of strategic significance.
2003
The Corporate Affiliates Program is established
Janet Eakman, assistant director of the program from 2003 to 2005, is a key driver behind these professional relationship-building opportunities, which help students enter the corporate world before graduation.
2003
The Hoeft family gives a $5.5 million endowment gift to the program
The permanent endowment continues Leonard and Mary Lou Hoefts' commitment to the T&M Program and its students while staying true to their vision of bridging two disciplines. The program is renamed The Hoeft Technology & Management Program.
2004
John Clarke becomes program director
Clarke, (MBA '94, Strategy, MIS, Gies College of Business) brings his global background with him to take the program to the next level.
2004
The Cultural Immersion Trip is launched with the first trip to China
Clarke spearheads what is now considered a signature component of the program: a chance for students, following their first year with T&M, to understand the global economy by visiting multinational and local companies, and universities, and cultural/historic sites.
2005
The program graduates its 250th student
2006
The International Business Plan Competition is launched
T&M students can apply for an opportunity their junior year to travel abroad for 10 days over winter break and compete with undergraduate and graduate students from top universities in Hong Kong, Brazil, and Germany. Grouped into multinational teams, students learn about an emerging technology through company and university visits and meetings with experts, develop business plans that take advantage of the emerging technology, and pitch their ideas to a panel of judges.
2007
Darcy Sementi becomes program director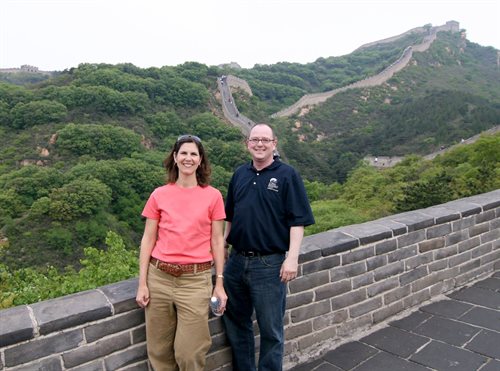 Sementi (MBA '00, Gies College of Business), continues the program's success with a renewed focus on corporate affiliates closer to home.
2008
The program graduates its 500th student
2011
Domestic corporate affiliate site visits are launched
Sementi spearheads these network-building site visits to enhance the academic and professional experience of students, who travel to cities like Chicago, Peoria, Moline, and St. Louis to tour affiliates' work environments.
2011
Students partner with Sementi to create the T&M Alumni Association
Gary Weber (B.S. '12, Aerospace) and Anna Oldani (B.S. '12, Agricultural Engineering; M.S. '14, Mechanical Engineering; PhD '19, Mechanical Engineering) developed TMAA to foster a connection between former T&M students with current students. TMAA has grown into an important networking resource for current students and alumni.
2012
John Quarton becomes program director
Quarton (B.S. '87, Electrical Engineering), brings his engineering background to a growing program along with prior experience representing State Farm on the T&M Corporate Affiliates Program Advisory Board and employing dozens of T&M students at the State Farm Research & Development Center in the University of Illinois Research Park.
2013
International internships are launched
The internships are offered following the cultural immersion trip, providing students with additional professional opportunities with companies abroad.
2014
Internships increase with corporate partners at the University of Illinois Research Park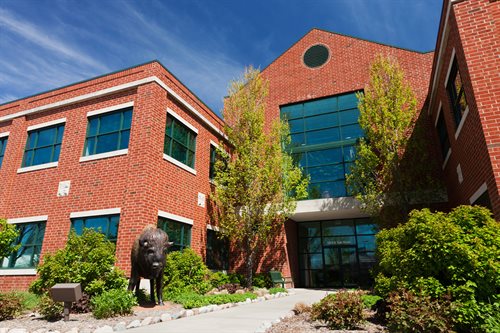 Quarton is a strong advocate and facilitator of student internships with corporate affiliates at Research Park. He is now regularly seeing over 25 T&M students in a single semester interning with current and former corporate partners with innovation centers and labs in Research Park, including Abbott, Anheuser-Busch, bp, Capital One, Caterpillar, John Deere, Motorola Solutions, State Farm, and Synchrony.
2016
The program graduates its 750th student
2016
Tech/business talk series is launched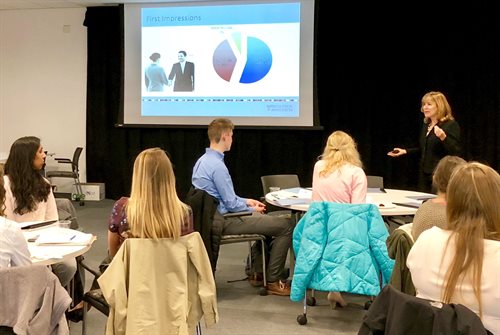 A new series of talks is introduced during the spring semester on technical and business topics crowdsourced by students in the program. Local campus experts are paired with corporate affiliates to discuss the theory and the practice.
2018
The Peer Leadership Development Program is created
Ilalee Harrison James, T&M's associate director, developed and implemented this program to allow T&M Student Leadership Board members to foster leadership roles in co-curriculars while taking a more active role serving as a liaison between the campus adminstration and student body.
2019
Soft skills development workshop
T&M students learn online from program alumni and student peers about technical and soft skills during the summer.
2020
The Hoeft T&M Program celebrates its 25th year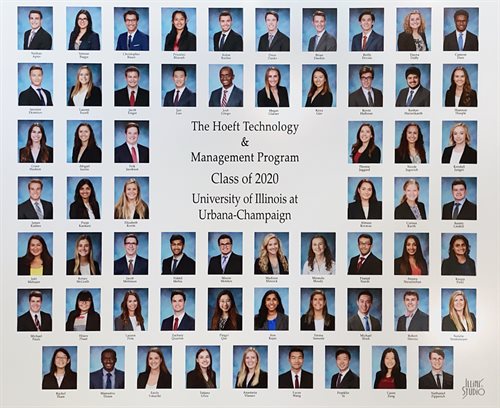 2020
The program will graduate its 1,000th student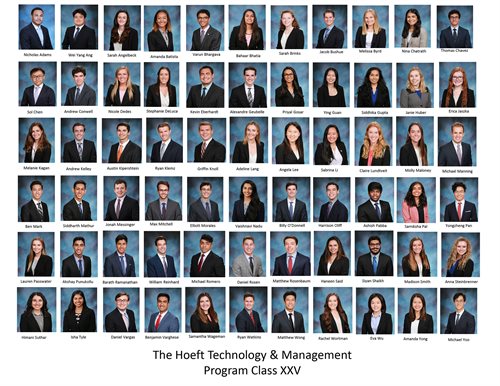 2021