Multicultural Engineering Recruitment for Graduate Education (MERGE)
Grainger Engineering is one of the world's top-ranked engineering colleges. Our students, faculty, and alumni set the standard for excellence. We drive the economy, reimagine engineering education, and bring revolutionary ideas to the world.
Each fall, Grainger Engineering invites a group of prospective students which includes women, persons from diverse cultural backgrounds, and people of all physical abilities to explore our engineering graduate programs.
Are you ready to learn more? We invite you to apply for our 2021 MERGE Virtual Event.
2021 MERGE Virtual Event
Friday, September 24, 2021
2:00 - 5:30 PM CST
During this event, you will learn about applying to graduate school, funding your studies, and becoming a successful researcher. You will also hear from current students, faculty, and graduate programs staff, and will be able to engage in live Q&A sessions. Following the event, there will be additional opportunities to virtually visit with your program of interest.
The application period for the Fall 2021 MERGE ends on August 25, 2021 at 11:59 PM CDT. If you have any questions about the MERGE program or the application process, please email us at engr-gpp@illinois.edu, call us at 217-333-6634, or visit us online at grainger.illinois.edu/academics/graduate.
Application Information
Eligibility Criteria
To apply to the MERGE program you must be:
A U.S. citizen or permanent resident
Currently enrolled or recently completed an accredited curriculum in engineering, computer science, or physics
Preference will be given to individuals who will be graduating in the coming year, with a GPA of 3.2 or higher (on a 4.0 point scale), and individuals whose cultural background will increase the diversity of the graduate student body - for example, Black or African American, Hispanic or Latina/Latino/Latinx, Native American or Alaska Native, Other Pacific Islander, women, or persons with disabilities.
Application Procedures
To receive full consideration, we advise that all application materials should be submitted as soon as possible. The following items must be provided within your application:
An unofficial transcript
A statement of no more than two pages addressing your plans for graduate study, including research interests, career goals, relevant coursework completed, and other educational experiences
A detailed resume that outlines research experiences, internships, publications, and leadership experiences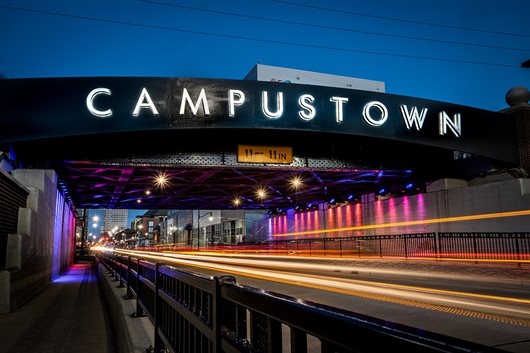 Unique "Micro-Urban" Community
Urbana-Champaign is on an accelerated development track, emerging as a leading example of a "micro-urban" community—a population center of less than 250,000 with a set of highly desirable attributes commonly found in larger cities. Our vibrant arts/culture/nightlife scene, internationally diverse population, strong technology base, and commitment to societal issues coupled with a world-class university make this an ideal place to live, study, and work.
True Interdisciplinary Spirit
We're home to numerous research centers, multidisciplinary research efforts, and many advanced laboratories. Interdisciplinary discovery is a topic of conversation at every university today. At Illinois, it isn't just talk. It's a way of life. Here it's possible to redefine success, and invent new ways of working with colleagues from across campus in almost any field, for almost any reason.
Graduate Program Rankings
Graduate engineering programs at The Grainger College of Engineering are ranked #10 overall in the Best Graduate Schools issue of U.S. News & World Report (published March 2020). The following list includes all of our ranked graduate engineering science specialties.
#6 Aerospace / Aeronautical / Astronautical
#8 Biological / Agricultural
#24 Biomedical / Bioengineering
#12 Chemical
#2 Civil
#4 Computer Engineering
#5 Computer Science
#8 Computer Science - Artificial Intelligence
#11 Computer Science - Programming Language
#5 Computer Science - Systems
#12 Computer Science - Theory
#5 Electrical / Electronic / Communications
#3 Environmental / Environmental Health
#15 Industrial / Manufacturing / Systems Engineering
#5 Materials
#5 Mechanical
#7 Nuclear
#9 Physics
#12 Physics - Atomic / Molecular / Optical
#1 Physics - Condensed Matter
#11 Physics - Nuclear
#9 Online Graduate Engineering