People
Award winning CARE tutor reflects on college career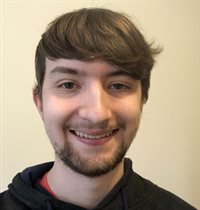 You're a tutor for the Center for Academic Resources in Engineering (CARE). Tell us about that experience?
Being a CARE tutor, I really enjoyed the atmosphere of the west side of the 4th floor of Grainger. Having students working and able to come up and ask questions at any point really gave it that laid-back, community vibe. This helped me not only to be a more effective tutor but to really engage with students more personally.
I miss sitting in Grainger. Whether it was to kill an hour between classes or sit down and grind through some homework. It always felt like an environment of productivity perfectly balanced with a laid-back feel that made me feel welcome.
Being a part of CARE brings you into contact with lots of different people in the college. Is there anyone who stands out?
Dana Tempel, assistant director of CARE, really shaped my experience with the college. From being my boss to being someone in the college I could just go to with questions about anything. Dana has really been a mentor throughout virtually my entire collegiate career. I think my most meaningful memory with Dana was when I initially got hired with CARE. My first interview didn't go particularly well, and I was not invited to join the team that upcoming semester. Then, right at the beginning of that next semester, Dana reached out to me since they had a vacancy they needed to fill. Dana gave me a second chance and believed in me enough to offer me the position. This gesture was probably the most meaningful event for me in my time here at the University. It literally shaped how the last three years of my life went and taught me the value of never giving up. Dana rocks!
Now that you're graduating, do you have any words of wisdom to the next generation of Grainger Engineering students?
Get involved in something. Whether it be a research project or a club, some of the best experiences you'll have in college are with your peers accomplishing something together, big or small. Don't JUST study. Go for a walk now and again, explore a building you've never been to, find a small restaurant and try it. Urbana-Champaign has so much more to offer than classes.
Did you receive scholarships for your studies? If so, what impact did they have on your collegiate career and postgraduate plans?
I did receive scholarships: President's Award and Engineering Scholarship Endowment. These scholarships gave me the flexibility to go to college without having to take out huge loans. It also has helped me save up enough to attend graduate school with the same conditions. These have been invaluable to me and have given me the ability to pursue my education without significant financial burden.
Alex Garcia is a senior studying Engineering Physics and Astronomy and he was named 2021 Tutor of the Year Honorable Mention by the University of Illinois Urbana-Champaign