Women in Engineering receives 2021 Inspiring Programs in STEM Award by INSIGHT Into Diversity Magazine
The Women in Engineering program at the University of Illinois Urbana-Champaign Grainger College of Engineering has received the 2021 Inspiring Programs in STEM Award from INSIGHT Into Diversity Magazine and is featured in their September issue along with 78 other recipients across the nation. INSIGHT Into Diversity Magazine describes itself as the largest and oldest diversity and inclusion publication in higher education.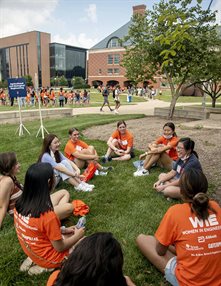 The Women in Engineering program is being recognized for its work providing orientation for new women engineers, freshman mentoring classes, leadership workshops, academic advising, and increasing the enrollment of first-year women engineers. The program is an important part of the vibrant fabric of The Grainger College of Engineering, according to Susan Larson, an assistant dean at Grainger Engineering and former Women in Engineering director.
"Creating community, fostering teamwork and leadership, and supporting academic success are key to welcoming women, their talent, ideas, and innovation to the engineering field," Larson said. "We are thrilled to receive INSIGHT's STEM award on behalf of our students."
The Inspiring Programs in STEM Award honors colleges and universities that encourage and assist students from underrepresented groups to enter the fields of science, technology, engineering, and mathematics.