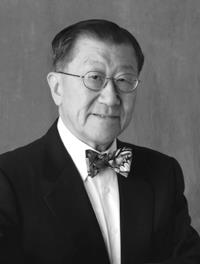 Entrepreneurial leader, global philanthropist; Founder and Retired Chairman of Hsin Chong Construction Group, Ltd
M.T. Geoffrey Yeh has made significant and lasting contributions to the construction and financial sectors in Hong Kong, serving as chair of the Hsin Chong Group of Companies, including Hsin Chong Construction Group, Ltd., a publicly listed company, until his retirement in 2002. He is the current chair of Hsin Chong International Holdings, Ltd.
After studying civil engineering at the University of Illinois and earning a master's degree from Harvard University, Yeh joined Hsin Chong and Company in Hong Kong, the construction company founded in 1955 by his late father, Mr. K.N. Godfrey Yeh.
Yeh's commitment to community service is relected in his membership on Hong Kong's Town Planning Board from 1976 to 1984. He also chaired the Construction Industry Training Authority from 1975 to 1987 and served as a member of the consultative committee on the new airport and related projects from 1995 to 1998. He was a longtime council member and Past President of the Society of Builders, and was a member and officer in the Building Contractors' Association.
In 1991, Yeh was an Independent Director of Hong Kong Futures Exchange Ltd. In 1993, he became Vice Chairman, ultimately chairing the exchange from 1998 to 2000. He was also a director of HKFE Clearing Corp Ltd. from 1998 to 2000. As a founding court member of the Hong Kong University of Science and Technology, Yeh took a leading role in university governance, serving actively until 2004. He was also a court member of Hong Kong Baptist University from 1995 to 2001.
In 1976, Yeh was appointed a Justice of the Peace (JP), and, in 1981, to the Most Excellent Order of the British Empire (MBE). In 1982, he received an honorary doctorate degree in commercial science from St. John's University in New York. In 2000, he was conferred the Silver Bauhinia Star (S.B.S) by the Government of the Hong Kong Special Administrative Region of the People's Republic of China. He served as the Honorable Consul of Jamaica in Hong Kong from 1984 to 2002, and, in 2003, was awarded the Badge of Honor for Meritorious Services— BH(M)—by His Excellency the Governor General of Jamaica.
Yeh founded the Yeh Family Philanthropy, a family foundation, in 2011. A member of the President's Council of the University of Illinois Foundation, Yeh was the lead donor for the M.T. Geoffrey Yeh Student Center, a 20,500-square-foot addition to Newmark Civil Engineering Laboratory that provides state-of-the-art classrooms, meeting rooms and informal gathering space for students in the Department of Civil and Environmental Engineering at Illinois.
Degrees
BS Civil Engineering, 1953
MA Harvard, 1954
PhD St. Johns, 1982