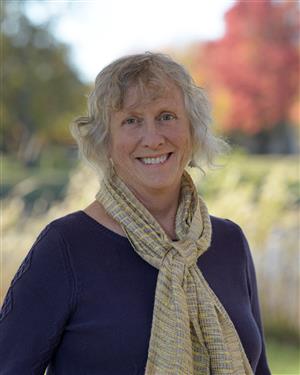 Visiting Research Scientist
(217) 244-7805
Suite 204 Applied Research Institute
For more information
Education
Ph.D. Agricultural and Biological Engineering, University of Illinois, 2018
M.S., Civil Engineering (SRIS), University of Illinois, 2016
B.S., Civil/Environmental Engineering, University of Illinois, 2002, highest honors
B.A., Art History, Boston University, 1982, Magna Cum Laude
B.S., Journalism, Boston University, 1982, Magna Cum Laude
Biography
Ann-Perry Witmer is a Visiting Research Scientist at the Illinois Applied Research Institute. After earning her undergraduate degree in Civil and Environmental Engineering at the University of Illinois, Dr. Witmer designed drinking-water systems throughout the Midwest as a professional consulting engineer for more than a decade. During that time, she also became involved in humanitarian engineering work, ultimately helping to create service organizations that designed and installed engineered infrastructure with communities in Central America and the Caribbean. Dr. Witmer returned to the University in 2013 as a lecturer in the Grainger of College of Engineering and continued to teach while earning her doctoral degree in Agricultural and Biological Engineering, focusing her studies on the effectiveness of engineering design for non-industrialized societies. She continues to teach courses in international engineering design and acts as faculty advisor to Engineers Without Borders-UIUC, and her project travels have taken her to Central America, Africa, Asia and South America, where she's developed a deep understanding of the relationship between technical and social considerations that must be co-evaluated for under-resourced communities. Many of her insights were gleaned from a first career in journalism, during which time Dr. Witmer built a robust understanding of the relevance of context to applied efforts in government, industry, and the environment.
Today, her research effort focuses on the refinement of the Contextual process methodology, in which user conditions are incorporated into the design process to produce a more sustainable outcome. Her methodology has been applied to engineering design processes for infrastructure and products, as well as to entrepreneurial pursuits and business management practices.
Academic Positions
Lecturer, Engineering, 2013-2020, Illinois Engineering First-Year Experience
Lecturer, ECE, 2020-present, Context in Power Systems
Lecturer, CIMED, 2018-present, Global Immersion
Lecturer, ABE, 2018-present, Contextual Engineering
Visiting Research Scientist, 2020-present, Applied Research Institute
Documents
Other Professional Employment
Project Manager, Foth Infrastructure Inc., Madison, WI 2012-2014
Project Manager, Crispell-Snyder Inc., Madison, WI 2007-2012
Project Engineer, Strand Associates, Madison, WI 2002-2007
Freelance Writer, self-employed, Illinois, 1991-2001
Editor/Reporter, Peoria Journal Star, Peoria IL, 1985-1991
Editor/Reporter, Bethlehem Globe-Times, Bethlehem, PA 1982-1985
Professional Registrations
LEED AP BD+C, United States, current
Professional Engineer, Minnesota, current
Professional Engineer, Wisconsin, current
Professional Engineer, Illinois, current
Resident Instruction
ABE199 International Engineering Service project Management
ABE 469 Industry-Linked Design Project
ABE498/AFST495 Introduction to Contextual Engineering
ABE451/LAST441/LAST550 International Water Project II
ABE450/LAST440/LAST550 International Water Project I
Student Organizations
AWWA/WEF UIUC chapter
Engineers Without Borders UIUC chapter
Research Interests
Parsing the urban-rural divide to address health needs in agricultural communities
Leveraging context in addressing interactions between land, people, and environmental practices
Applying context to engineering processes in the industrialized world - finding the nuances of societal differences in rural America
Measuring context using observation-based tool - best practices for using the Contextual Tool
The infrastructure client experience in non-industrialized societies - enthographic evaluation of the indigenous society experience
Learning from a society's innovative self-sufficiency to build a robust and sustainable technical infrastructure
Humanitarian v. Contextual Engineering project inception - do practitioner objectives and motives affect outcome?
Context and entrepreneurship - when does user context begin to influence product development?
Contextual Engineering application to remote power systems design
Can big data be used to predict contextual conditions for rural societies?
Building a contextual understanding among engineering students through project-based learning
The impact of rurality and indigenous identity on technical decision-making in non-industrialized societies
Research Areas
Contextual Innovation and Process
Chapters in Books
"Women in Engineers Without Borders" in Women and Ideas in Engineering: Twelve Stories from Illinois, ed. Hahn, L. and A. Wolters, University of Illinois Press, 2018
Selected Articles in Journals
"Making the Case for Food Security Through Contextual Engineering", 2019, Journal of Agriculture and Horticulture Research
"Contextual Engineering Assessment Using an Influence-Identification Tool", 2018, Journal of Engineering, Design and Technology
"Contextual Engineering to Address Preservation of Rural Societies, 2018, Journal of Academic Perspectives
"The Influence of Development Objectives and Local Context upon International Service Engineering Infrastructure design, 2018, International Journal of Technology Management and Sustainable Development
"An Ethnographic Justification for Establishment of a Contextual Engineering Discipline", 2019, Journal of Engineering, Design and Technology
"Contextual Engineering leverages Local Knowledge to Guide Water System Design," July 2020, Journal AWWA.
Articles in Conference Proceedings
"Understanding and incorporating stakeholder perspectives in international engineering: a phrase mining analysis", 2019, proceedings of ASABE Annual International Meeting
"Drawing Upon Non-Engineering Disciplines to Research Sustainability of Engineered Infrastructure in South America", 2016, proceedings of American Society for Engineering Education annual conference
"Bringing a Cross-Disciplinary, Contextual Approach to International Service Engineering Learning", 2016, proceedings of American Society for Engineering Education annual conference
Pending Articles
"Cultivating the Assimilative Perspective in Contextual Engineering - Knowing What You Don't Know," 2020, Journal of Humanitarian Engineering.
"Exploring Context in Engineering Infrastructure Design: A Comparison of six Gravity-fed Water Distribution Systems in Rural Honduras", 2020, Journal of Engineering Design and Technology
Invited Lectures
The Importance Of Context In Drinking Water System Design
Letting Go for Success in International Service
Considering Context in Engineering Design
The Intersection of Education and Service in Sub-Saharan Africa
Bringing Social Context to International Engineering Design
Contextual Engineering for Sustainability and Robust Design
Meeting Communities' Needs through Contextual Engineering
The Role of Context In Engineering Design
The Role of Context in Infrastructure Design for Non-Industrialized Communities
Magazine Articles
If Not Now, When? Civil and Environmental Engineering Magazine, Illinois, 2009
Geothermal Technology: A Green Hornet's Nest for Drinking Water Suppliers, Wisconsin Water Association Magazine, 2010
Conferences Organized or Chaired
Contextual Engineering Virtual Faculty Workshop
Professional Societies
Chair, Wisconsin Section American Water Works Association, 2014
Public Affairs Council, American Water Works Association, 2012-2016
Service on University Committees
Advisory Committee member, Center for African Studies
iCAP Education SWAT Team member, Institute for Sustainability in Energy and Environment, University of Illinois
Service on College Committees
Advisor, Engineers Without Borders-UIUC Chapter
Other Outside Service
Ex-officio Board Member, Akelos, Illinois
Vice Chair, World Water Alliance of Florida
Chair, Board of Governors, University YMCA
Technical Review Committee, EWB-USA Community Engineering Corps
ICP Guru, Engineers Without Borders USA
Domestic Application Review Committee, Community Engineering Corps
Honors
Leon Smith Award, Wisconsin Water Association (2008)
Harvey Jordan Award, Engineering at Illinois (2002)
William McKay Award, CEE at Illinois (2002)
Phi Kappa Phi (2002)
Keystone Press Award, Pa. Newspaper Publishers Association (1984 )
Pi Sigma Alpha (1982)
Teaching Honors
Honoree, 150 for 150: Celebrating 150 Years of Women at the University of Illinois (2017)
Engineering Council Award for Excellence in Advising (2017)
List of Teachers Ranked as Excellent (S2020, S/F2019, S/F2018, S/F2017, S/F2016, S/F2015, F2014 )
Research Honors
Illinois International Graduate Achievement Award (2017)
Public Service Honors
Public Service Award, Isaac Walton League of America (1990)
J. Frederick Miller Award, University YMCA (2017)
Improvement Activities
Online Teaching Academy, June 2020
Courses Taught
ABE 199 - Intl Engrg Service Proj Mgmt
ABE 450 - International Water Project I
ABE 469 - Industry-Linked Design Project
ABE 498 - Context in Int'l Interventions
ABE 498 - Contextual Engineering
ABE 498 - Int'l Interventions
ABE 498 - International Water Project I
ABE 498 - Technology & Art: Sierra Leone
AFST 495 - Context in Int'l Interventions
AFST 495 - Special Topics
ENG 177 - Inspiring Interacting Informng
ENG 177 - Introduction to Sustainability
ENG 177 - Strategies for Intl Developmnt
ENG 198 - IEFX Professional Development
ENG 198 - Inspiring Interacting Informin
ENG 198 - Introduction to Sustainability
ENG 198 - Renaissance Engineer
ENG 198 - Strategies for Intl Developmnt
ENG 398 - Engineers Without Borders
ENG 398 - Honduras Water Project
ENG 398 - HWP Implementation Trip
ENG 398 - Independent Study
ENG 440 - Honduras Water Project I
ENG 440 - International Water Project I
ENG 441 - Guatemala Water Project II
ENG 441 - Honduras Water Project II
ENG 498 - ISID Travel
ENG 598 - Honduras Water Project
ENG 598 - HWP Implementation Trip
ENG 598 - Sust Int Devt Seminar
GLBL 499 - ISID Travel
LAST 440 - Honduras Water Project I
LAST 440 - International Water Project I
LAST 441 - Honduras Water Project II
LAST 441 - International Water Project II
LAST 550 - Honduras Water Project I
LAST 550 - Honduras Water Project II
LAST 550 - International Water Project I
LAST 550 - International Water Project II
UP 494 - ISID Travel