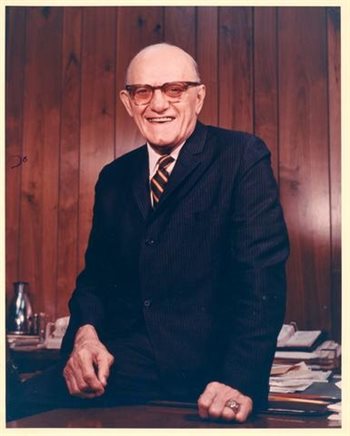 For his indelible influence in growing the sport of football in America—from establishing and coaching the Chicago Bears for 40 successful seasons to founding the National Football League.
George Halas bled orange and blue and his ties to the University of Illinois ran deep. As an alumnus of Engineering at Illinois, he coached the Chicago Bears and founded the National Football League. Halas is a legend among Illini fans and Chicago Bears fans.
During his remarkable career, he filled the shoes of owner, manager, player, promoter, and leader.
Growing up on the west side of Chicago, Halas graduated from Crane Tech High School. After high school, he worked for a year before attending Illinois in 1914.
He lettered in football, basketball, and track while earning a bachelor of science degree in civil engineering.
Halas played football for legendary Illini coach Bob Zuppke. At the team banquet following Halas's final season, Zuppke told his players, "Just when I teach you fellows how to play, you graduate and I lose you."
Halas enlisted in the Navy.
While at Great Lakes Training Station, he received his diploma from Illinois, which pleased his mother very much. He played football at Great Lakes and was named Most Valuable Player of the 1919 Rose Bowl game.
On opening day of the 1919 major league baseball season, Halas was a member of the New York Yankees. He couldn't hit the curve and lasted only 12 games in the big leagues before an injury caused him to turn his attention back to football.
In 1920, Halas went to work for the Staley Starch Company in Decatur, Illinois. Besides learning the cornstarch business, he founded, managed, coached, and played for the company football team, the Decatur Staleys. The Staleys became the Chicago Bears, a charter member of what became the National Football League.
Halas coached the team for 40 seasons, winning 324 games and six world championships. His 1940 Bears team—the Monsters of the Midway—defeated the Washington Redskins 73-0 in the title game. As a player, Halas set an NFL record that stood for 49 years when he returned a Jim Thorpe fumble 98 yards for a touchdown. He is a charter member of the Pro Football Hall of Fame.
Halas was involved with the Chicago Bears his entire adult life. For the team's colors, he chose those of his beloved Illini—orange and blue.
Degrees
BS, 1918, Civil Engineering