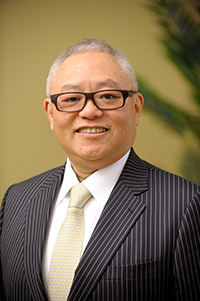 Chariman of the Board and CEO, Foxconn Interconnect Technology, Ltd.
BS, 1981, Mechanical Science and Engineering, University of Illinois
BSLAS, 1981, Mathematics, University of Illinois
If you own an iPad or iPhone, Sidney Lu had something to do with it.
Based in Taiwan, Lu serves as the first chairman and CEO of Foxconn Interconnect Technology (FIT), a global partner for joint-design, joint-development, manufacturing, assembly, and after sales services to computer, communication, and consumer electronics leaders. With offices and manufacturing sites in Asia, Europe and the Americas, including one at the U of I Research Park, FIT is a global leader in the supply of precision components.
Lu and his two brothers each left Taiwan to attended the University of Illinois. Sidney took full advantage of the opportunity, earning 58 credit hours in his first year, almost twice as many as a typical freshman.
That work ethic continued as a member of the Foxconn Technology Group, where Lu has literally worked his way up the company ladder, beginning as a design manager on connectors. Within 18 months, he was in charge of a development group of 60 engineers. A few years later, he took over a business unit that included manufacturing. By 2003, he was promoted to be in charge of the entire connector and cable operations. His roles have included a stint as corporate executive vice president of Foxconn and general manager for its Network Interconnection Group (NWinG).
During his tenure, Lu has been instrumental in several facets and developments of the company, including the introduction of scientific analysis and total quality systems through engineering, product development, and manufacturing operation processes.
Under his leadership, the connector group within Foxconn grew from a rating outside the top 50 to a corporation that has gained clear control of the computing related connector and cable space and now ranks among the top-four connector companies worldwide.
Lu has been a member of the board of directors of Hon Hai Precision Industry Co. Ltd, the parent company of Foxconn and helped steer Hon Hai from a challenging time in its history to its current status as the leader in in the contract manufacturing
services industry.
Lu received the 2011 Distinguished Alumni honor from the Department of Mechanical Science and Engineering. In 2014, Lu established the Tungchao Julia Lu Professor of Mechanical Science and Engineering in honor of his mother who made it possible to attend Illinois. On April 17, 2015, the University of Illinois announced a $12 million gift from Lu to establish the Lu Center for Learning and Innovation within the department.
Current as of May 2022.