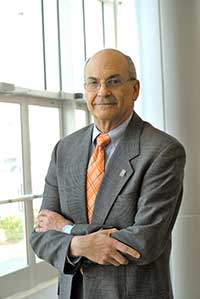 Former Chief Technical Officer, Alcoa, Inc.
BS, 1971, Mathematics, Carnegie Mellon University
BS, 1971, Physics, Carnegie Mellon University
MS, 1972, Physics, University of Illinois
PhD, 1975, Theoretical and Experimental Physics, University of Illinois
A vision of Frank Lederman's future success could be seen early in his academic career, where he completed a double PhD dissertation (matching his double undergraduate degrees in mathematics and physics) in both experimental and theoretical physics. These were distinct dissertations, with almost no overlap. Each was a major accomplishment, and 14 published papers were drawn from that work.
His success in industry began at the General Electric Research and Development Laboratory. In 1979, Lederman became manager of ultrasound programs where he oversaw, and made significant contributions to, GE's development of phased-array technology for the ultrasound heart scanner, and supervised the transition of the technology to the Medical Systems Division.
Within two years at GE, Lederman had received patents for "Ultrasonic Imaging Utilizing Reconstruction of Acoustic Impedance Projections"(1978), "Digital Rectilinear Imaging System" (1978), and "Transmit-Receive Array and Ultrasonic Imaging System" (1979).
In 1988, Lederman was named Vice President and Director of Research at Noranda, Incorporated, an $8 billion natural resource company based in Montreal, and became Senior Vice President for Technology in 1992. His rejuvenation of research at Noranda earned him widespread attention in business circles, and, in 1993, the Mercuriade Award for his initiatives in R&D. His effort to "push the ownership of programs and projects down into the organization" was employed as a business case study at the Queens' University School of Business.
In 1995 until his retirement in 2002, Lederman headed the Alcoa Technical Center (ATC), the world's premier light metals research center, serving as Vice President for Research, Development & Engineering, eventually serving as the Chief Technical Officer. There he developed a technology board, which served to refocus Alcoa's attention on its research portfolio. Among his other honors, he received the Governor's Environmental Excellence Award for Pollution Prevention in 1996.
Lederman has served on the University of Illinois Physics Advisory Board. He returned to campus in October 2012 to present a very popular talk in the UIs Physics Careers seminar series on "Thinking of Your Career as a Physicist: Scientific Research in Industry."
Lederman has served on the corporate boards of Cray Inc., Magnola and the Canadian Center for Automation and Robotics, and served as a director of the Canadian Research Management Association. He is an emeritus member of the Industrial Research Institute, which consists of past and present CTOs.