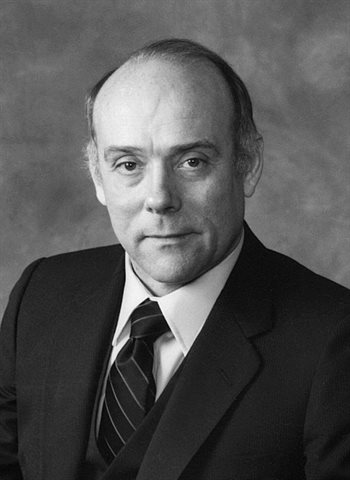 Founder and Chairman, Vulcan Spring & Manufacturing Co., Telford, Pennsylvania and Cofounder and Chairman, FirstService Bank, Doylestown, Pennsylvania
BS, 1957, Mechanical Engineering, University of Illinois at Urbana-Champaign
Throughout his career, Alexander Rankin has been one of the most respected members of the spring industry, a selfless contributor to his alma mater, and an active member of his community. After he left the university with a bachelor's degree, he set a goal of owning his own business in 10 years. In the following decade, he worked with Firestone Tire and Rubber Co., Powers Regulator Co., and Ametek, augmenting his engineering expertise with marketing and sales skills. In 1967, with one 23-year-old spring coiling machine that he had modified to make constant force springs, one customer, and one order, Rankin started Vulcan Spring and Manufacturing Co. in his basement. Six months later, he moved Vulcan into a small factory and expanded with three additional machines.
The first commercial application of a Vulcan spring was to drive the speech mechanism of the "Talking G.I. Joe" doll. The company now manufactures more than 5,000 custom-made parts in a modern 55,000-square-foot building for customers worldwide. Vulcan's products are used in satellites, appliances, locomotives, surgical tools, buildings, and many other applications. Although his son now co-owns and runs the company, Rankin remains involved as chairman. His newest challenge is as cofounder of the FirstService Bank, which after six years has seven offices in the Doylestown area.
Rankin's entrepreneurial spirit has always been balanced by a strong sense of commitment to improving the spring industry. Active in the Spring Manufacturers Institute, he served as chairman of the Technology Committee for 12 years and as president for 2 years. He recently received the organization's Lifetime Achievement Award. Rankin supports many community projects and is a Deacon in the Hilltown Baptist Church. He has remained deeply involved with the Department of Mechanical and Industrial Engineering. He served on the M&IE Alumni Board and was honored with the M&IE Distinguished Alumnus Award. In 1998, he endowed the James W. Bayne Professorship, in memory of the M&IE professor whom Rankin credited with the success of his initial spring design. Rankin has taken a special interest in supporting young entrepreneurs and is active in a number of special projects.
Current as of 2002.