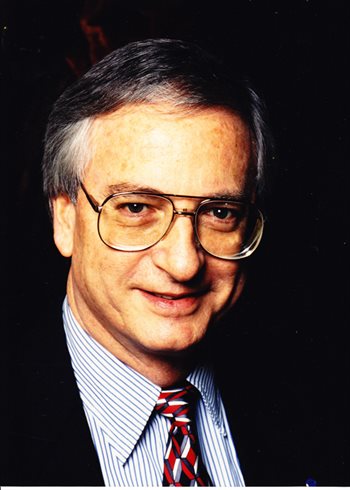 President, Motorola Europe, Middle East, and Africa, Slough, Berkshire, England
BS, Electrical Engineering, 1964, University of Illinois
MS, Electrical Engineering, 1965, University of Illinois
James Norling joined the Semiconductor Products Sector of Motorola in 1965 as an engineer, learning the business and the extremely complex and precise technology used to etch millions of transistors on a thumbnail-sized silicon chip. As the industry grew globally, his career advanced. He attained general managership of Motorola's International Semiconductor Group in 1981, executive vice president of Motorola, Inc., in 1986, and president of Motorola Europe, Middle East, and Africa in 1993.
During Norling's stewardship of the Motorola Semiconductor Products Sector, its percentage of non-U.S. business revenues increased 35% to 55% as Motorola expanded its design and manufacturing networks around the world. He played a leading role in numerous customer and competitor linkages, including the 1986 alliance with Toshiba, a major competitor.
Under his direction, the Motorola Semiconductor Products Sector received the Ford QI Award, GM Award of Excellence, Chrysler Award for Quality and Excellence (1991 and 1992); Digital Equipment 1991 Vendor of the Year Award, Magnavox Top 10 Award (five consecutive years), Texas Instrument's 1991 and 1992 Supplier Excellence Award, the fourth consecutive Bosch Total Customer Satisfaction Award, Cray Computer Engineering Achievement Award, and the American Business Press Association's top honor in business-to-business competition. The most distinctive recognition came when the Motorola Semiconductor Products Sector won the Dataquest Supplier-of-the-Year Award four consecutive years for "extraordinary dedication to quality products and service for its customers." Dataquest is the industry's largest market analysis firm.
In 1994, Norling received a distinguished alumnus award from UIUC's Department of Electrical and Computer Engineering. He was founding board member of Sematech and chairman of the Semiconductor Industry Association from 1992-93.
Current as of 1996.