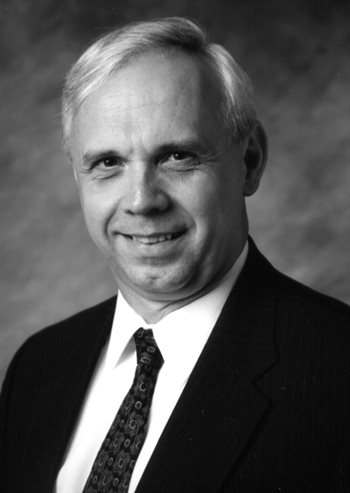 Chairman, President and Chief Executive Officer, Greenhorne & O'Mara, Laurel, Maryland
BCE 1962, Civil Engineering, Manhattan College
MS 1963, Theoretical and Applied Mechanics, University of Illinois at Urbana-Champaign
PhD 1970, Civil Engineering, Rutgers, the State University of New Jersey
In the course of his broad-based career, John J. Healey has made significant contributions to the profession as an engineering executive, program manager, consulting engineer, and researcher. As president and chief executive officer, he has led the establishment, growth, and advancement of several major engineering corporations, including Ebasco Infrastructures and Raytheon Infrastructure Services.
In 1995, he joined the Greenhorne & O'Mara (G&O), a multidiscipline consulting engineering firm that operates nationally from 16 offices in the eastern United States and maintains a staff of 650 engineers, planners, scientists, and support staff. Under Healey's leadership, the firm's overall revenue and sales have grown to the highest level in the firm's 56-year history; profitability and stockholder value have advanced, and new offices and services have been added.
Following the tragic events at the World Trade Center on September 11, 2001, the Federal Emergency Management Agency (FEMA) requested that G&O provide overall management of the post-disaster investigation. As Principal-in-Charge, and with his experience with structural behavior under extreme dynamic loads, Healey played a significant role in G&O's leadership of the 25-member Building Performance Study team that was assembled to document the collapse of the twin towers and to provide preliminary observations and recommendations. He served as one of the Select Reviewers of the resulting report entitled, World Trade Center Building Performance Study: Data Collection, Preliminary Observations, and Recommendations.
In a commendation letter, the FEMA Project Manager cited Healey's personal involvement and indicated the study will continue to be the authoritative engineering summary of the World Trade Center events, citing G&O for the "service you have done the nation." In May 2003, Healey accepted the 2003 Grand Award from the American Council of Engineering Companies/Maryland (ACEC/MD) and the national 2003 Honor Award for excellence in engineering from the American Council of Engineering Companies for that study.
During his career, Healey has authored more than 30 papers and presentations on wind engineering, blast protective design, soil-structure interaction, earthquake engineering, structural stability, missile impact, lifeline engineering, and infrastructure engineering. His diverse consulting experience ranges from assignments such as work for the Lawrence Livermore Laboratory on the NRC-sponsored Seismic Safety Margins Research Program to a number of international assignments including extensive work for the World Bank on cyclone shelters in Bangladesh.
Current as of 2006.