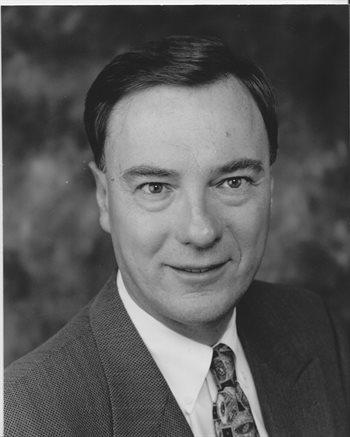 Executive Vice President and President of Communications Enterprise, Motorola, Inc., Schaumburg, Illinois
BS, 1970, Electrical Engineering, University of Illinois at Urbana-Champaign
MS, 1981, Electrical Engineering, Florida Atlantic University
Merle L. Gilmore is known for creating inventive solutions to problems. He holds four patents in digital signal processing and was awarded a fifth patent in 1995 for technology to minimize the telephone call delays the can occur in modern digital wireless communication systems.
Gilmore joined Motorola's Applied Research Group in Chicago in 1970. Two years later, he transferred to Florida to work as engineering group leader for the paging operations. He was selected for various management positions, eventually returning to Illinois. In 1994, he was named president of Motorola's Land Mobile Products Sector to manage product development, manufacturing, marketing, sales, and distribution of two-way radio equipment used by police and fire departments, construction firms, and other commercial businesses. In 1997, he moved to England and was named Motorola's president for the Europe, Middle East, and Africa Region. He returned to Illinois the following year and was named president of Motorola's Communication Enterprise. Under his leadership, the Internet and Connectivity Services Division launched VoiceMark Language to help programmers more easily develop new voice services for Web sites. After 30 years, Gilmore retired from Motorola in late 2000.
Throughout his career, Gilmore has been committed to professional and community service. He has offered his expertise to several public school boards and committees, and he was instrumental in the formation of Enterprise Florida, the principal economic debelpment organization for the state. He has been active in United Way and the Urban League. He was elected to the board of trustees of the Chicago Educational Television Association in 1994. A year later, he was asked to serve as state director for the national Association of Manufactuers, one of the largest trade organizations in the country. He currently serves on the Board of Directors of Junior Achievement of Chicago, the Foglia YMCA, and the University of Illinois President's Chicago Advisory Council. His service to his profession and society earned Gilmore such honors as the Fort Lauderdale Sun Sentinel Excaliber Award, the Palm Beach Post Business Leader of the Year Award, and the University of Illinois Electrical and Computer Engineering Distinguished Alumnus Award.
Current as of 2001.