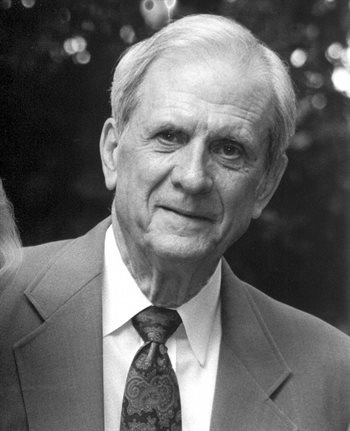 Lillian M. Gilbreth Distinguished Professor of Industrial Engineering, School of Industrial Engineering, Purdue University West Lafayette, Indiana
BA, 1949, Physics, Wabash College
MS, 1951, Physics, University of Oklahoma
PhD, 1955, Physics, University of Illinois at Urbana-Champaign
Dale Compton has demonstrated a lifelong commitment to engineering excellence and, in addition to ground-breaking scientific contributions to condensed matter physics, he has profoundly influenced both manufacturing practice and engineering education in the United States.
While director of the Coordinated Science Lab (CSL) at the University of Illinois, he helped CSL build a world-class reputation in control, computer, and communication systems, developing theories and creating landmark inventions 30 years ahead of their time. While vice-president of research at Ford Motor Company, he promoted innovations that led to a number of technological breakthroughs in modeling and simulation of the design and in the manufacture of automotive components and systems. Since 1988, Compton has been the Lillian M. Gilbreth distinguished professor in the School of Industrial Engineering at Purdue University. Active in the school's Center for Cooperative Manufacturing, he is undertaking research on the unit processes of manufacturing and focusing on improving the productivity and quality of manufacturing systems.
Compton was instrumental in creating and promoting the concept of the Engineering Research Center, a National Science Foundation initiative that has benefitted Illinois and the nation. Elected to the National Academy of Engineering (NAE) in 1981, he was named the first-ever NAE Senior Fellow in 1986. He is currently serving a four-year term as home secretary of NAE and is a member of the Council of the NAE and the governing board of the National Research Council, National Academy of Sciences.
Current as of 2003.