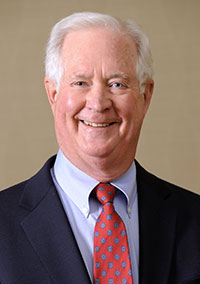 Co-Founder, President, CEO, Chairman of the Board (retired), Prism Solutions
BS, 1965, Mechanical Engineering, University of Illinois at Urbana-Champaign
MS, 1966, Mechanical Engineering, University of Illinois at Urbana-Champaign
James Ashbrook has been a visionary and an entrepreneur in the information technology industry for more than 35 years, holding senior positions in computer hardware and software firms, co-founding a pioneering IT professional software and services firm, and serving as a catalyst for startup computer companies.
After completing his master's degree in 1966, Ashbrook worked 12 years for IBM in Springfield, Ill., and Princeton, N.J., before accepting posts as Vice President of Marketing at National Advanced Systems (a firm that produced IBM plug-compatible hardware), Vice President of Sales and Marketing for CXI, Inc., and Vice President of Marketing and Senior Vice President of Marketing for AST Research Corporation, which designed, manufactured, marketed, serviced, and supported a diverse line of personal computers.
In 1991, Ashbrook co-founded Prism Solutions, Inc., which set out to help companies understand, manage, and utilize business information effectively. He served as President and Chief Executive Officer for the company which went public in 1996. Ashbrook stepped down from that post in 1997, continuing solely as Chairman in order to focus his efforts on strategic planning and direction, technology acquisition, and international market development. By 1998, Prism had more than $52 million in revenue, 350 international customers, and 20 regional offices, 11 of those internationally.
After retiring from Prism and selling his interests to Ardent Software, Ashbrook focused his attention on helping small computer businesses grow within the industry. He became heavily involved in the Band of Angels, a Silicon Valley organization dedicated to funding and advising startups. Later, after moving to Nevada, Ashbrook was involved with the Sierra Angels, specializing in software and energy startups. He was also a director of Syndico.com and HealthyCorp.com in Silicon Valley and currently is a director of Sentia Group in Newport Beach, Calif.
A life member of the University of Illinois Alumni Association, Ashbrook established an endowment to create the James W. Ashbrook Scholarship Fund in the Department of Mechanical Science and Engineering. In 1998, he received the Distinguished Alumni Award from the Department of Mechanical Sciences and Engineering for his generous and continued support of the department.