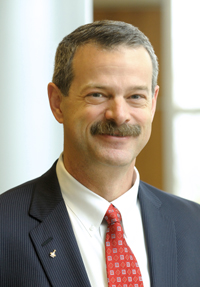 NASA Astronaut and Captain, United States Navy, Friendswood, TX (Retired)
BS, 1981, Aeronautical and Astronautical Engineering, University of Illinois at Urbana-Champaign
MS, 1990, Aeronautical Engineering, Naval Postgraduate School
Scott D. Altman's career has taken him literally "out of this world," first as a distinguished Naval aviator and, most recently, as a space shuttle pilot and mission commander. After receiving his degree at Illinois, Altman joined the United States Navy and was commissioned as an ensign in 1981; he received his Navy wings of gold two years later. In 1987, he was selected to attend the Navy Test Pilot School, from which he graduated in 1990. Altman was awarded the Navy Air Medal for his role as a strike leader flying over southern Iraq in support of Operation Southern Watch. A decorated military pilot, he also earned the Distinguished Flying Cross, Defense Meritorious Service Medal, Navy Commendation Medal, and Navy Achievement Medal among other awards. Altman's flying experience also landed him on the big screen as he performed many of the aerial stunts in the movie Top Gun.
In 1995, he was chosen as an astronaut, piloting two NASA shuttle missions and serving as mission commander on a third. Recently, Altman was the shuttle commander for the fifth and final servicing mission to repair the Hubble Space Telescope. All told, he logged more than 50 days in space during his various missions.
Altman has become a champion of Engineering at Illinois in recent years. He serves on the Department of Aerospace Engineering Alumni Advisory Board, and, in 1999, he received the Department of Aeronautical and Astronautical Engineering's Distinguished Alumni Award. He is a featured alumnus in a television commercial that airs during Illinois sporting events. On a recent mission to the Hubble Space Telescope, he was photographed wearing a bright-orange Illini shirt as he floated inside the shuttle.
Current as of 2011.