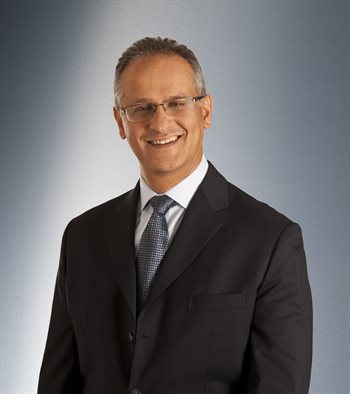 Executive Vice President and Senior Advisor to Chevron's Chairman and CEO
BS, Civil Engineering, University of Illinois Urbana-Champaign, 1981
MS, Civil Engineering, University of Illinois Urbana-Champaign, 1982
Joseph C. (Joe) Geagea joined Chevron in 1982 as a design engineer and is now Executive Vice President and Senior Advisor to Chevron's Chairman and CEO, a position he assumed in August 2021.
Previously, Joe was executive vice president of Technology, Projects and Services since 2015. In this role, he was responsible for energy technology; delivery of capital projects; procurement; information technology and digital; asset performance and process safety; health, safety, and environment; environmental management; business and real estate services; and talent selection in support of Chevron's upstream, downstream and midstream businesses. Prior to that, Joe was senior vice president of Technology, Projects and Services.
Joe served as a corporate vice president and president of Chevron Gas and Midstream from 2012 until 2014, responsible for commercializing Chevron's natural gas resources and overseeing the company's shipping, pipeline, and power operations as well as supply and trading operations. His prior positions at Chevron include managing director of Chevron Asia South Ltd., where he was responsible for Chevron's upstream activities in Bangladesh, Cambodia, China, Myanmar, Thailand and Vietnam; vice president of Upstream Capability, where he worked to improve the delivery of support services to Chevron's global upstream operations; vice president of Chevron International Exploration and Production Company; president of Fuel and Marine Marketing; and president of downstream operations in East Africa, the Middle East and Pakistan.
Joe is an active supporter of diversity and inclusion and prioritizes mentoring others and supporting early-career employees. He served as Executive Management Sponsor for Chevron's Asian Employee Network and served on the board of directors of the National Action Council for Minorities in Engineering. He is a member of the American Society of Civil Engineers and the Society of Petroleum Engineers and has served as Executive Management Sponsor for Chevron's Summer Intern Program (2020). He previously served as President of the American Chamber of Thailand and was a trustee on the board of the San Francisco Ballet Association. He was honored as a Distinguished Alumnus by Grainger Engineering's Civil and Environmental Engineering Alumni Association in 2016.