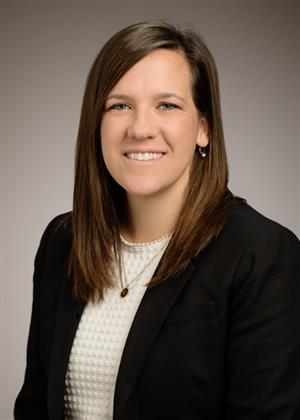 Teaching Assistant Professor
3134 Everitt Laboratory
For More Information
Education
BS, Materials Science and Engineering, Drexel University
MS, Materials Science and Engineering, Drexel University
PhD. Engineering Sciences, Harvard University
Academic Positions
Associate, School of Engineering and Applied Sciences, Harvard University, 2021-present
Research Interests
Engineering Education
Mechanics of Biomaterials
Soft Robotics
Research Topics
Bio-Micro and Nanotechnology
Research in BME Education
Chapters in Books
H.A. McIlwee, J.D. Schiffman, M.D. Cathell, C.L. Schauer, "Deposition of Chitosan: Electrospinning and Thin Films" in Current Research and Developments on Chitin and Chitosan in Biomaterials Science. R. Jayakumar and M. Prabaharan, Eds., Research Signpost, Kerala (2008) 81-122. Invited.
Selected Articles in Journals
• A.H. Greer, W. Vauclain, E. Lee, A. Lowe, J. Hoefner, N. Chakraborty, M. Fairorth, N. Sharma, T. Russell, R. Esgro, L. Snyder, H.M. Golecki, "Design of a Guided Inquiry Activity to Investigate Effects of Chemistry on Physical Properties of Elastomeric Polymers for Use in STEM Education," Journal of Chemical Education. vol. 98, no. 3, pp. 915–923, Mar. 2021, doi: 10.1021/acs.jchemed.0c00528.
• A.H. Greer, E. King, E.H. Lee, S.E. Obuz, A.N. Sardesai, Y. Graf, T. Ma, D.Y. Chow, J.Somani, B. Schork, Y. Sankuratri, T. Barnes, B. Broadus, C. Costner, Y. Chen, H.M. Golecki, "Soluble Polymer Pneumatic Networks and a Single-Pour System for Improved Accessibility and Durability of Soft Robotic Actuators," Soft Robotics. 2020 Jun 2. doi: 10.1089/soro.2019.0133.
A.N. Sardesai, X.M. Segel, M.N. Baumholtz, Y. Chen, R. Sun, B.W. Schork, R. Buonocore, K.O. Wagner, H.M. Golecki, Design and Characterization of Edible Soft Robotic Candy Actuators. MRS Advances. July 2018, DOI: 10.1557/adv.2018.557
C.O. Chantre P.H. Campbell, H.M. Golecki, A.T. Buganza, A.A. Capulli, L.F. Deravi1, S. Dauth, S.P. Sheehy, J.A. Paten, C.A. Higgins, K. Gledhill, Y.S. Doucet, E.H. Abaci4, J.W. Ruberti, S.P. Hoerstrup, A.M. Christiano4, K.K. Parker, Production-scale fibronectin nanofibers promote wound closure and tissue repair in a dermal mouse model. Biomaterials 166:96-108, Mar 5, 2018.
G.M. Gonzalez, L.A. MacQueen, JU Lind, SA Fitzgibbons, C.O. Chantre, I Huggler, H.M. Golecki, J.A. Goss, K.K. Parker. Production of synthetic, para-aramid and biopolymer nanofibers by immersion rotary jet-spinning. Macromolecular Materials and Engineering. 7 October 2016; doi: 10.1002/mame.201600365.
H. M. Golecki, H. Yuan, C. Glavin, B. Potter, M. Badrossamay, J. Goss, M.D. Phillips, K.K. Parker, "Effect of solvent evaporation on fiber morphology in rotary jet spinning.", Langmuir. 2014 Nov 11;30(44):13369-74.
M.R. Badrossamay, K. Balachandran, A.K. Capulli, H.M. Golecki, A. Agarwal, J.A. Goss, H. Kim, K. Shin, K.K.Parker Engineering hybrid polymer-protein super-aligned nanofibers via rotary jet spinning. Biomaterials. 2014 Mar;35(10):3188-97.
L.F. Deravi, H.M. Golecki, and K.K. Parker. Protein-Based Textiles: Bio-Inspired and Bio-Derived Materials for Medical and Non-Medical Applications. J. Chem. Biol. Interfaces. 2013; 1(1): 25-34.
P. Mellado*, H.A. McIlwee*, M.R. Badrossamay, J.A. Goss, L. Mahadevan, K.K. Parker. "A Simple Model for Nanofiber Formation by Rotary Jet-Spinning". Appl Phys Lett. 2011, 99, 203107.
M.R. Badrossamay, H.A. McIlwee, J.A. Goss, K.K. Parker, "Nanofiber Assembly by Rotary Jet-Spinning", Nano Letters, 2010, 10 (6) 2257-2261.
K.J. Fahnestock, M. Manesse, H.A. McIlwee, C.L. Schauer, R. Boukherroub, S. Szunerits, "Selective detection of hexachromium ions by localized surface plasmon resonance measurements using gold nanoparticles/chitosan composite interfaces", The Analyst, 2009, 134 (5) 881-6.
V.G. Praig, H.A. McIlwee, C.L. Schauer, R. Boukherroub, S. Szunserits, "Heavy-metal sensing utilizing localized surface plasmon resonance on gold nanoparticle-modified chitosan films". Journal of Nanoscience and Nanotechnology (Invited) 2009, 9 (1) 350-7.
H.A McIlwee, C.L. Schauer, R. Boukherroub, S. Szunerits, "Metal ion sensing on chitosan modified gold substrates using surface plasmon resonance spectroscopy" The Analyst, 2008, 133, 673-7.
Articles in Conference Proceedings
T. Fu, H.M. Golecki, and M.H. Goldstein, "The Nuts and Bolts of Robotics in K-12 Classrooms: A Literature Synthesis", Paper presented at 2020 ASEE Virtual Annual Conference Content Access, Virtual, DOI 10.18260/1-2—35352.
S.N. Sharma, D. Chidambaram, G. Mizzi, D. Rosen, K. Slaughter, H.M. Golecki, "Paperometer: A Low-Cost Incentive Spirometer", Proceedings of the 2021 Design of Medical Devices Conference, DMD2021-1048, April 2021.
Recent Courses Taught
BIOE 100 - Undergraduate Open Seminar
BIOE 120 - Introduction to Bioengineering
BIOE 400 - Bioengineering Senior Design
BIOE 435 - Senior Design I
BIOE 436 - Senior Design II
BIOE 497 HG - Individual Study
BIOE 498 HG (BIOE 498 HGO) - Soft robotics
BIOE 598 HG (BIOE 598 HGO) - Soft Robotics