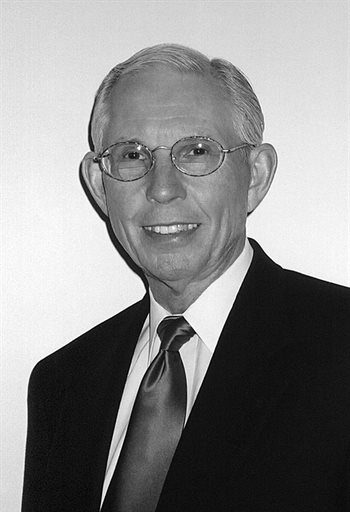 President and Chief Executive Officer (retired), Savannah, Georgia
BS, 1959, Metallurgical Engineering, University of Illinois at Urbana-Champaign
The career of Ron Morris has been focused on industrial production. In the last 40 years, he has held virtually every corporate manufacturing and executive position, and his leadership has turned foundering enterprises into profitable companies. He has had responsibility for personnel units ranging from a few to more than 15,000 people.
Early in his manufacturing career, he pursued work for which his college degree had prepared him. He was a staff metallurgist for John Deere in tractor manufacturing, then on to plant metallurgist for Federal-Mogul Corporation at a new cylindrical roller bearing facility in Macomb, Illinois. Working his way up through the corporation over a period of 13 years, he was a multiple plant manager, general manager, and group vice-president. He ultimately became president of one of the country's largest vehicular parts manufacturers, Tenneco Automotive.
For 20 years he served as CEO of both publicly and privately held manufacturing companies, most of which have undergone leveraged buyouts, and he has turned these companies around through organizational restructuring, asset redeployment, strategy development, and growth through targeted acquisitions. Without exception, his organizations excelled, grew in technology, market share, and profitability and were superior organizations at the end of his tenure. These companies included Tenneco Automotive, PT Components (Link-Belt Company), and Western Industries. Success in each of the ventures that Morris directed depended not only on his technical skills but more so on his ability to attract outstanding people, build participative organizations founded on trust, promote professionalism within, and focus the corporation's efforts on sound strategic direction.
Ron Morris exemplifies the altruistic executive. He supports religious, educational, philanthropic, and civic organizations. He is an elder in the Presbyterian Church. He has served on the board of directors of the Indianapolis Chamber of Commerce, United Way, American Red Cross, and Junior Achievement and on the Board of Trustees of the Indianapolis Children's Museum and the Corporate Board of the Milwaukee School of Engineering. He received the Department of Materials Science and Engineering Distinguished Merit Alumni Award and serves on the department's Senior Advisory Committee. He has also served on the College of Engineering Advisory Board. Soon he will assume responsibilities as a recent nominee to the University of Illinois Alumni Association Board of Directors.
Current as of 2003.