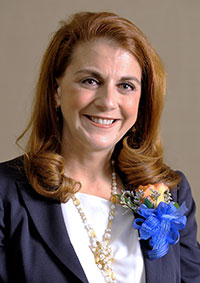 Former Chief Executive Officer, Vibrynt, Inc.
BS, 1982, Metallurgical Engineering, University of Illinois at Urbana-Champaign
MS, 1996, Technology Management, Pepperdine University
Beverly Huss is dedicated to helping people who suffer from obesity and its related health issues. After co-founding Vibrynt in 2006, a company dedicated to creating minimally invasive therapies for patients suffering from morbid obesity, she served as President and CEO until 2013. She has several patents in cardiovascular and obesity medical devices, including ones for an extendable guide wire and for an intravascular catheter, and continues to be on the forefront of the industry.
From 2001 to 2005, Huss served as President of Endovascular Solutions division and Vice President of Guidant. She was responsible for research and development, manufacturing, sales, marketing, finance, regulatory affairs, quality assurance, clinical affairs and human resources within Endovascular Solutions, growing the business to $150 million in revenue. She also held various Vice President posts – for Guidant's Canada and Latin America Operations, for Vascular Intervention Global Marketing and for the Stent Business Unit where she built the company's coronary stent business, a market leader for 27 of 28 quarters.
Huss served as senior advisor to Pervasis Therapeutics, Inc., where she was a consultant. She was chairperson of the Silicon Valley American Heart Association and a director of the Santa Clara County Chapter of the American Heart Association. She has served on the Board of Directors for Dade Behring Holdings, the largest company in the world solely dedicated to clinical diagnostics, and the Board of Directors for Wright Medical Technology, Inc., a designer, manufacturer and distributor of orthopedic implant devices. She currently serves on the board of Ulthera, a company that provides therapeutic ultrasound to improve the appearance and health of patients worldwide. She previously held engineering positions at both Honeywell Defense Systems Division and Jones and Laughlin Steel.
Huss is a new member of the Senior Advisory Committee for the Department of Materials Science and Engineering at Illinois.