Experiences
A Day in The Life of an NPRE student
My name is Nataly Panczyk, and I'm from Palatine, IL. I'm a sophomore in Nuclear, Plasma, and Radiological Engineering (NPRE) at the University of Illinois at Urbana-Champaign (UIUC) with a concentration in Power, Safety, and the Environment and a minor in Political Science. Currently, I work under Dr. Madicken Munk and Professor Kathryn Huff for the Advanced Reactors and Fuel Cycles (ARFC) research group. Outside of class and research, I am the Outreach Chair for the American Nuclear Society (ANS) student section at UIUC and the Social Chair for the Women in Nuclear (WiN) student section at UIUC.
I know that sounds like a lot and maybe a little bit like you're reading a LinkedIn profile, which isn't super helpful for a prospective student. So, rather than transcribing an interview, I'm going to walk you through what my day actually looks like, start to finish. Remember that college is customizable, though, so if none of this* sounds interesting to you, that's totally okay. Today is Wednesday October 20th, 2021.
*Unfortunately, the lab report will probably be non-negotiable-- sorry!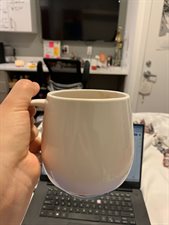 6:33 a.m. -- Wake-up & crawl to coffee maker
Good morning and happy Wednesday! In a couple hours we're going to be halfway through this week, and frankly, that's an insane thought. It still feels like it should be Monday. I'm currently sitting on my bed drinking a hot cup of coffee-- this is my favorite part of the day, mostly because I'm drinking coffee and still in bed, but also feeling productive because it's not even 7 a.m. I never thought I was a morning person until college when there was no one to force me to get up, but here I am, still up before the sun. It feels better though since it's by choice. Another choice-- not being at the library until 3 a.m. One of the best parts about college is complete autonomy over your sleep, study, and overall life schedule. I tap out by 11:30 (or at least I try).
7:04 a.m. -- Walk research park
Sun is just about up; time to walk to Research Park. A big university like UIUC attracts tons of companies and agencies interested in working with their faculty, researchers, and students (read: internships). Research park is the physical hub for many of said companies.
My days can get really busy, really quickly, so I like to get some physical activity in before I get swamped in other tasks. Be back in an hour!
10:20 a.m. -- Lecture & office housework stuff
So I ended up walking a little further than I probably should have, which made me a little late to get home, get ready, pack my bag, and get out the door. Lucked out today though, I walked into my 9 a.m. lecture (Radiation Interaction with Matter I) at 9:02 a.m. and conveniently, my professor was running a little behind schedule as well, so class hadn't even started yet. We have a midterm on Friday, so today was mostly review and answering questions. After lecture (at the Digital Computer Laboratory), I walked across the Bardeen Quad to Everitt Laboratory (where I am now) to catch up on some Slack notifications, check my email, and get a little bit of work done. There are lots of little study areas scattered throughout the engineering buildings on campus, so sometimes it's a game of study space roulette to see where I'll end up working. I usually go for the lounge in Talbot Laboratory, since that's the designated Nuclear (and Aerospace) Engineering building, but it's nice to switch it up every once in a while.
1:25 p.m. -- Nuclear Science Week outreach, lunch, & lab report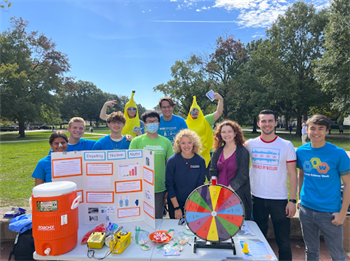 I left Everitt around 10:50 a.m. to head over to the Main Quad. This week (October 18-22) is a nationally recognized event called Nuclear Science Week. I'm the Outreach chair for UIUC's student section of American Nuclear Society, so today we set up a booth on the Main Quad to hand out cookies, hot chocolate, and 3-D printed cooling towers to people who answered nuclear-science related trivia questions. I left the Quad around 1 p.m. to grab lunch and work on some figures for my lab report (Nuclear Materials Lab). We collected steel quenching and cooling data for the lab last week, so now I have to analyze the data and write the report for Monday.
3:04 p.m. -- Back home for coffee break & finishing up code
Decided I was tired of the Union basement and wanted a little coffee break before my evening meetings started. It's about a 10 minute walk to my apartment from the Quad, so I enjoyed some fresh air and called my mom on the way. Refilled my tumbler with more coffee (don't worry, it's decaf) and wrote functions to calculate stress, ultimate tensile strength, percent elongation, and some other values from the steel testing data. Going to finish plotting those later.
4:15 p.m. -- Clean-up from NSW booth
Headed back to the Quad to check-in on the NSW booth and help clean up. Most of the cookies and hot chocolate went, and we got a lot of positive feedback from the public! These kinds of events can be a lot of work to organize, but the time we spend learning the science means nothing if people don't care about what we do and want to implement it. Especially considering the huge environmental impact potential of nuclear energy, it makes it completely worthwhile for me.
6:03 p.m. -- Pizza with Exelon
Just ended a professional chat with representatives from Exelon. They bought members of Women in Nuclear pizzas and empanadas from Manolo's, which I now can very highly recommend! This wasn't a super formal meeting, just a couple of current Exelon employees doing Q&A with students interested in their field. Summer internship applications are already underway, so attending events like this help a lot with determining where I might like to work.
7:40 p.m. -- Studying for Radiation Interaction with Matter midterm
After the chat with Exelon, I met a friend to go over the past homework assignments from our radiation class in preparation for our midterm on Friday. Nothing too exciting here, but it helped a lot to talk through the concepts with him. Now I just have to make my note sheet and drill the Schrödinger Equation into my brain for the next two days.
10:00 p.m. -- Relax & prep for NPRE 100
After I walked home, I'm not going to lie, I kind of just collapsed on my bed for a little bit and answered texts and scrolled through Instagram. This lasted probably a little longer than it should've, but I'm about to work on making an assignment for the class I TA for, NPRE 100. It's a required class for all nuclear engineering students and is mostly an introduction to the department and essential skills for the major. Tomorrow's lecture will be an intro to coding in Python, so I'm cleaning up the project that goes with that lesson.
11:33 p.m. -- Clocking out
Finished the assignment and sent out a bunch of emails and Slack messages. Probably should've done a little more radiation homework, but that's a tomorrow problem. Night.