Women
Finding a second home with the Women in Engineering community
Hi my name is Grace Huberty and I'm a junior in Bioengineering at The Grainger College of Engineering.
Looking back on senior year of high school, the most stressful thing in my life was college applications. And it wasn't just waiting to be accepted (or rejected). Even once you get in, where do you go? Every time I heard about college, I heard that it should feel like home. But no campus that I visited felt like home to me, and I was worried that I wouldn't pick the perfect college. If I could talk to my 17-year-old self now, I would tell her that the university she chooses doesn't need to feel like home quite yet—it just has to have people who will help it get there one day.
The Women in Engineering (WIE) program was the first place where I started to find a family at Illinois. They were the very first people who I felt were there for me and who were excited to meet me (which was very much needed for someone who was scared she wouldn't make any friends). It started before I even came to the university, at the best possible time—the night I got my first college rejection letter. A postcard came in the mail from a freshman named Jaime in WIE. She wrote about all the great experiences that I would have at Illinois, and about how excited they were to have me here. It made getting rejected from other universities a lot easier to handle, because I already felt like there were people here at Illinois who cared about me.
That postcard, which showed me that I'd have a built-in community at Illinois from day one, was one of the reasons I chose to attend college here. And I'm glad I did! I was right that there's a great community here in WIE. My favorite event that WIE has is WIE Orientation, where the freshmen women in engineering get to meet each other the day before official move-in. Every new student also meets an upperclassman mentor to teach them about their major and help guide them through the beginning of freshman year. That was how I met Stephanie, my WIE mentor. When I look back on the beginning of freshman year, there is one thing that stands out right away—Stephanie took me to my first football game.
Going to a football game was one of the things I'd been most looking forward to in college, and I hadn't been able to find anyone to go with. I had a whiteboard on my dorm room door and wrote on it asking if anyone would want to go to the game with me. Stephanie happened to live across the hall and saw my message. She not only invited me to go with her and her friend, but they also taught me all of the Illinois cheers.
I felt like I was really becoming a part of the university. WIE mentors like Stephanie also have a big impact on professional and academic success. Orientation helps freshmen learn about tools they'll need right away in college, like time management, joining student organizations, and how to use the buses. It also connects new students with mentors who have participated in internships, research, and study abroad programs. These mentors give advice on applying to internships, connecting with professors to do research, and balancing those opportunities with schoolwork and a social life.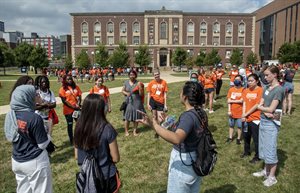 WIE orientation had such a big impact on me that I became a WIE mentor too. This is the second year that I have been a mentor, and every year I love to meet all of the incoming students. Welcoming new students to the university and sharing all of the advice that I needed as a freshman is one of my favorite parts of starting a new school year. It always makes me smile to see familiar faces from orientation around campus throughout the semester, and I enjoy helping new students feel more comfortable starting college like my mentor did for me.
The feeling of community that the WIE program gave me even before freshman year has stayed with me through my college career. Campus may not have felt like home yet when I was in high school, but now that I'm a junior, I can't help but feel at home at every football game, every campus restaurant, and even just walking to classes. Coming to Champaign-Urbana every semester is no longer scary or lonely, it's familiar and exciting. It feels like coming home.