Crises Require Quick Responses
Over the summer of 2020, the University of Illinois was frequently conducting about 20 percent of all COVID-19 tests performed on a given day in the state of Illinois – or between one and two percent of all tests performed across the US.
By November, a team from The Grainger College of Engineering, led by Professor Abigail Wooldridge, a faculty member in the Department of Industrial & Enterprise Systems Engineering, completed the prototype for a mobile laboratory designed to demonstrate a way to rapidly deploy the saliva-based test for COVID-19 developed at Illinois.
"Starting from the testing system used on our campus, our team is looking at everything from supply chain challenges, to IT needs, to human factors, to waste stream management, and much more. The complexity of the effort is amazing, and the project represents the kind of innovative, translational research that The Grainger College of Engineering does so well," said Dean Rashid Bashir.

Shield T3 — a company established to expand the reach of this testing pioneered at the University of Illinois — is deploying labs nationwide. One such lab was deployed at Bloom Energy in California in December 2020. The company's CEO, K.R. Sridhar, is an alumnus of Grainger Engineering's Department of Nuclear, Plasma & Radiological Engineering and Department of Mechanical Science & Engineering.
The University of Illinois' SHIELD is a saliva-based COVID-19 test that provides results in as little as six to 12 hours, compared to the more common two-to-three-day turnaround of most COVID-19 tests. It costs substantially less than the $100 or more per standard nasal-swab tests. The SHIELD saliva-based test was designed by UIUC Professors Martin Burke (Chemistry and Carle Illinois College of Medicine), Paul Hergenrother (Chemistry and Institute for Genomic Biology), Timothy Fan (Veterinary Medicine), Christopher Brooke (Microbiology), as well as researchers Fadi Alnaji (Microbiology), Kelsie Green (Institute for Genomic Biology), Robin Holland (Veterinary Medicine), Diana Rose Ranoa (Chemistry), and Leyi Wang (Veterinary Medicine).
This project – funded by The Grainger College of Engineering and the University of Illinois System and supported by the Discovery Partners Institute, Shield T3, and the National Center for Supercomputing Applications – uses that screening platform.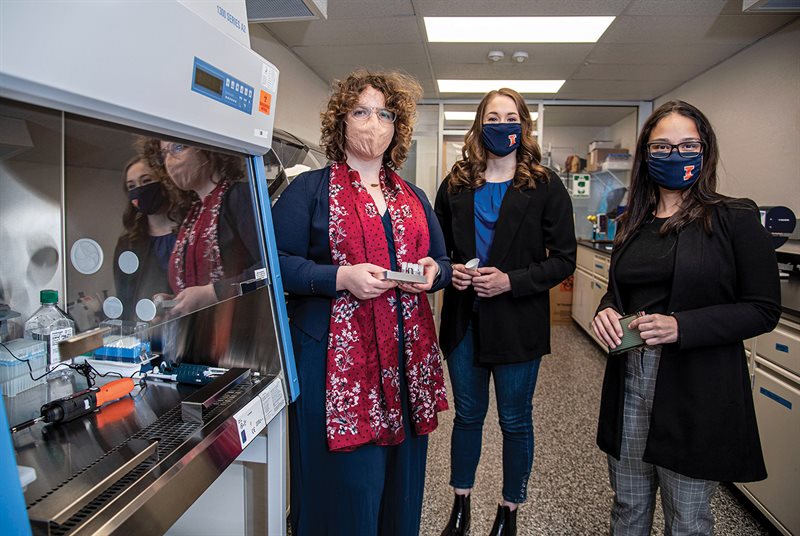 In addition to leading the design of the new mobile lab, Wooldridge and her research group are studying how interdisciplinary teams can adapt and respond to a range of crises like future pandemics and natural disasters.
"Crises like the COVID-19 pandemic require quick responses, and this project is a great example of how we can quickly gather a highly interdisciplinary team to respond to a temporary situation," Wooldridge said.
"These types of teams are crucial for addressing any emergent societal issue, whether it's a pandemic, hurricane, earthquake, wildfires, or civil unrest."
The mobile laboratory concept is not new, but the Grainger Engineering-led team is designing facilities with an eye on the needs of the technicians and their patients.
"We're spending a lot of time thinking about the people," she said. "We are focusing on what will make a mobile lab technician's work easier, safer, and more efficient. We are also thinking about what happens outside of the lab, like how we will collect specimens while keeping workers and patients safe and comfortable."
***