Engineering freshmen benefit from new IEFX initiatives
The end of the 2012-2013 academic year has seen a whole new way for first-year engineering students to get introduced to the College of Engineering.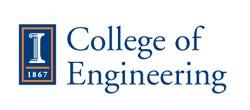 The
Illinois Engineering First-year Experience (IEFX)
has allowed students to get hands-on project-based experienced right from the start of their time in the College of Engineering.
"We got to have a real, valuable hands-on experience while working with other people," freshman Chuma Kabaghe said of her IEFX experience. "Working with other people who are as enthusiastic as you are about what you're doing was great. It got me that much more enthusiastic, and I knew that engineering was what I wanted to do."
Prior to the start of this academic year, first-year engineering students took an eight-week introductory course (ENG 100) to introduce themselves to the profession of engineering while easing the transition to being an engineering college student.
Starting this year, ENG 100 was condensed to four weeks, with an added emphasis of encouraging students to become involved in the student life on campus. Students were then encouraged to take one of seven continuation courses that aimed to give students a hands-on project based experience. Topics included Engineering at Illinois, International Dimensions of Engineering, Aspirations to Leadership, Freshman Undergrad Research Seminar, Renaissance Engineer, Mentoring for Freshman Women, and iEFX Projects.
Initially a curriculum incubator project, iFoundry accepted 77 first-year engineering students for a special first-year experience in Fall 2009. That program expanded to include 300 admitted students in 2010. As a result of iFoundry's overwhelming success, the pilot initiatives were expanded to serve all incoming students as the Illinois Engineering First-year Experience in fall 2011.
The IEFX Projects continuation course especially allowed students to pursue their specific interests through hands-on semester-long projects.
Freshman Matthew Biederwolff worked on a three-person group creating a Helix wind turbine prototype, even printing out the design in plastic using a 3D printer.
"It was a very hands on course in which we learned as we needed to for the project," Biederwolff said. "It's a class that a lot of college engineering students would benefit from. You get to determine what you want to do, and allow you to go after your interests. It's a great thing to get involved with."
"We chose a project and then from there we had to just go for it," Biederwolff said. "Down the road, you'll have to do similar things with senior design or undergraduate research. This opens things up for us. I can say that freshman year I was involved with this project, which can be pretty impressive."
Freshman Casey Fee chose to work on a project designated to be inspired by nature, spending a semester constructing a boat propelled by a fin, instead of a propeller.
"I really liked the class and looked forward to going to it," Fee said. "It was different than my lectures, we actually got to be hands on with our work and do stuff."
Kabaghe worked with three other freshmen to develop an android application that helped college students locate the nearest open dining hall on campus.
"Especially as a freshman, it was very challenging, but at the same time it was really exciting," Kabaghe said.
IEFX had been looking at the work of Russell Korte, an assistant professor in the College of Education, whose research on the transition of engineering graduates from college to the workplace shows that the top factor contributing to a successful transition is their ability to connect socially to other colleagues in the work environment.
IEFX courses such as the projects class allowed freshman students to work interactively with others in a project-based atmosphere.
"One very valuable skill we gained was teamwork and working with a group," Kabaghe said. "With engineering and our classes, we'll always be working with other people, and you'll need to be able to communicate and work productively with other people."
The courses also allowed freshman students to meet and build social connections with other fellow freshman engineering students.
"The biggest thing for me was getting to know other engineers and building connections," Biederwolff said. "The class had a lot of peer reviews and was interactive, which is a very practical thing to be able to do once you're out in the field."
_______________________
Contact: Michelle Adeoye, program coordinator, Illinois Engineering First-year Experience, 217/244-3829,

Writer: Jay Lee, Engineering Communications Office.

If you have any questions about the College of Engineering, or other story ideas, contact Rick Kubetz, editor, Engineering Communications Office, University of Illinois at Urbana-Champaign, 217/244-7716.