DeepWalk helping cities save money in building ADA compliant sidewalks
Did you know there are 690 miles of sidewalks in Champaign-Urbana? Recently the municipalities hired 12 interns to walk every single section, doing an Americans with Disabilities (ADA) assessment to record trip hazards and cracking and to take measurements like the cross slope and running slope of the approximately 15,000 curb ramps at intersections, a project that took four times the amount of time it had originally intended.
Following the ADA Act signed by President George Bush in 1990, municipalities are required to bring sidewalks up to code. Understanding that requiring a massive overhaul overnight wasn't realistic, the law requires cities to form a transition plan to move toward compliance. While the C-U project benefitted from a $250,000 grant, often the process is swallowed up in assessments and creating a transition plan, meaning additional funding is necessary for actual upgrades.
A University of Illinois startup, DeepWalk Research, is hoping to streamline the process and leave more money for making improvements. The company, founded by Brandon Yates, a sophomore civil and environmental engineering (CEE) major at the University of Illinois, plans to use computer vision to not only collect the data, but also create a 3D model, which is beneficial for the cost assessment and bidding. Currently, most cities, must go out a second time for these phases.
Yates has been working on the venture for about 16 months, since completing a projects class as a freshman. His team won the $1,000 social impact award at the University's Founder 54 contest, which, similar to a Hackathon, gives prospective student entrepreneurs, an opportunity to expand an idea over a weekend and form a pitch at the end. That is where he met Rodrigo Trevisan, a PhD candidate in crop science, who had implemented computer vision techniques in agricultural industry projects.
Since then, the team has expanded to eight – Yates, Quang Tran, a CEE PhD candidate, as technical lead; Michael Pauls, a junior computer engineering major, as business development lead; Trevisan as technical advisor; Vishal Narisimhan, a computer engineering major, and Utkarsh Awasthi, a computer science major, as computer vision developers; Olajumoke Akinleye, an MBA student, as business development advisor; and Bradley Berg, an MBA student, as financial advisor.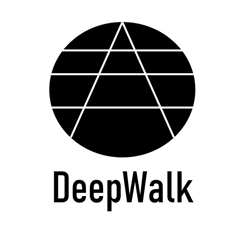 On April 10, DeepWalk will compete for more seed funding through the Cozad New Venture Challenge and this summer hopes to land a spot in the iVenture Accelerator at the University of Illinois Research Park, which includes another round of funding. Successfully landing a spot in the National Science Foundation (NSF)'s Small Business Innovation Research (SBIR) program is a goal down the road.
Even as an undergraduate, Yates has taken advantage of the entrepreneurial ecosystem, which included completing the local NSF I-Corps program, in December. That program guides fledging university startups through a customer discovery phase, a critical step towards a successful launch. A majority of teams in the program are typically led by faculty members.
"That was kind of a game-changer," Yates said of the I-Corps experience. "It was the first time I was introduced to the Research Park resources and that changed everything. We started doing more interviews (20 as part of the program, 65 to date), and calling city engineers and consultants within the ADA structure."
It was through that customer discovery phase that DeepWalk understood that its focus should be squarely on improving sidewalk ramps as opposed to individual sidewalk panels.
"Making sure every ramp in your city complies to those standards is really challenging," Yates explained. "Every city with more than 60 employees is required to have a transition plan to implement sidewalk ramps with every ramp needing to fit a specific set of measurements. As part of these transition plans there is a self-assessment."
Currently companies use a measuring wheel to take the measurements, manually enter the data, then must return to each to make a cost estimate. DeepWalk is working to make data collected as part of the transition plan useful for cost estimate and design.
"We are focusing on ramps because there are more standards and are harder to design," Yates explained. "In taking initial measurements, if the data only goes toward the transition plan, then it is somewhat useless. You can't use it to make a cost estimate. You can't use it to design a new ramp."
Their end goal is to create an app and a user interface to allow users to shoot a video with a mobile phone to create e a 3D model through a process called photogrammetry. The software will be able to use the video to automatically take the necessary 15-25 measurements, record the data, create a cost estimate, and craft bid documents, the latter alone costs up to $950 each under the current best practice.
"We have a lot of interest from consulting companies who could cut a lot of cost by using our product," Yates said. "We have a goal of integrating what we're doing into existing work flows and revolutionizing the industry. It wouldn't be prudent to do so without talking to as many people with industry experience as we can to confirm everything."
Over the past few months, DeepWalk has been in conversations with cities from as far away as Bend, Oregon, to as close as Champaign-Urbana and Tolono, Ill. They are meeting with consultants and hope to have an interface that cities can test and give feedback by the end of the year. His team will use the summer to immerse in more customer discovery, conducting as many as 40-50 interviews per week with cities and villages across Illinois.
"Ultimately we want to help cities save money so they can build more ramps instead of spending money elsewhere," Yates said.