SIIP Project combines art & design and mechanical engineering to consider end-user
For years, the focus of ME 370 was on the theoretical aspects of designing machines. Students focused on mathematically creating and analyzing machines using computer-aided tools. Its instructor, Sam Tawfick, an assistant professor of mechanical science and engineering, felt that while it was beneficial, its emphasis lacked something very important – the customer. Through a Strategic Instructional Innovation Program (SIIP) grant from the College of Engineering and a partnership with the School of Art and Design and Computer Science Department, the class has been completely reimagined.

This is precisely the kind of interdisciplinary approach and forward-thinking that will be at the center of the Siebel Center for Design being constructed in the heart of campus thanks to a lead gift from Illinois alumnus Tom Siebel.

The motivating vision of the SIIP program is to "teach like we do research, which means through collaboration, creativity, excitement, measurement, perseverance, and continual improvement." Over the past four years, the College has used resources to overhaul and invigorate the ways many of the core courses have been taught using these concepts.

"I do research to be a leader, meaning going beyond what our peers are already doing," Tawfick said. "That is the same vision that SIIP has for teaching."

Tawfick was an early adapter and used one of the first SIIP grants to turn the course from the theoretical to a project based class where students began using 3D printers and laser cutters to bring their designs to life. That was the spark for the Innovation Studio, housed in the Mechanical Engineering Laboratory building.

"While successful, I always felt there was still something missing," Tawfick admitted. "When you talk to colleagues from the School of Art and Design, there was a disconnect between what we call design and what they call design."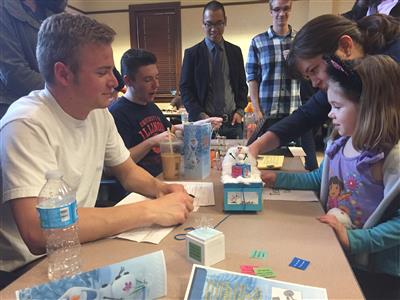 While students were designing intricate machines, it didn't take into account the end user. In other words, it would be a great benefit to his students taking the class, a precursor to Senior Design, if they had some idea whether there was actually a market for the product before beginning the design.

Tawfick teamed with Eric Benson, associate professor & chair of graphic design and Brian Bailey, a professor of computer science, on the second successful SIIP proposal, Nurturing Design Thinking in Engineering Courses, geared once again for ME 370.

"The proposal idea was born out of implementing design thinking in technically specific classes," Tawfick said. "In addition we were able to tap into computer science ideas in designing web sites and web interfaces and take advantage of virtual user experiences in developing machine designs."

The team used the summer to complete a syllabus for a one-credit pass-fail fall semester course where 40 students from MechSE and CS departments explored how to incorporate the end user into design thinking for a variety of disciplines. During the spring semester, that idea has for the first time been implemented tangibly into the ME 370 class.

"It has leveraged what we have done so far and taken it to the next level," Tawfick said. "It has lab components that didn't exist before where we have moved beyond theory and focused on the user when approaching actual design."

The class has three sections, which meet Monday and Wednesday for lectures and Thursday evening and Friday morning for labs. Each lab is then divided in half (about 20-25 students each) to allow for better discussion and lots of feedback.

Teams of three or four are currently developing concepts for pull toys. The second half of the semester will focus on building robots run by motors.

"We started with a very open-ended description, any pull 'toy' you can think of," Tawfick said of the development of the specific pull toys. "If they were building it for toddlers, what colors and themes would they like?"

One team has been working with the staff at Curtis Orchard to design a custom pull toy for them. After discussions with the staff, that team decided to use a Wizard of Oz theme currently present there and to mount the toy for an existing wagon. Some teams had a pull-toy that uses the energy from being pulled to produce a useful function like making a cup of coffee, other toys are simply hilarious mechanisms.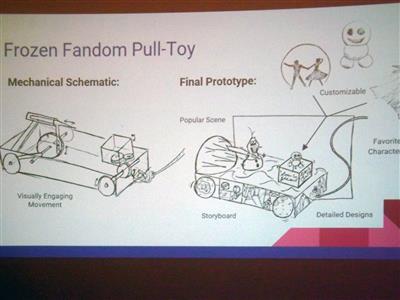 Through support from computer science, those teams went first through low fidelity prototyping, using cardboard, paper and pens for initial user interface design. This allowed teams to simulate moving elements.

"This was eye opening," Tawfick said. "In the past, students would focus just on the computer aided design and go straight into fabrication. This intermediate step really allows students to better imagine the user in this 3D aspect of design, beyond just plotting it on a computer. It makes the process more efficient."

Given the landscape of entrepreneurship on the Illinois campus, it is possible that at least some of the projects in this year's class or in future classes would matriculate into Senior Design or become the centerpiece for a student startup.

Although the course has yet to go through a full cycle, Tawfick reports, "I have never before seen this level of enthusiasm and excitement from our students for any mechanical engineering class I have taught. When you start thinking about other users, it is only natural you will get engaged and excited. While it is a more relaxed environment, the goal is clear – learn to empathize with the user in transforming these ideas into a mechanism."

While faculty and teaching assistants from the School of Art and Design are playing a big role in developing ME 370, the reciprocal is true for a new A&D class in kinetic sculptures where students will be building art made from machines. MechSE faculty members are giving guest lectures and its students will be conducting a clinic to advise design students of mechanical concepts.

"Our success would not be possible without the SIIP support to, for instance, hire TAs to get faculty from Art & Design to work with me on developing a syllabus," Tawfick said. "We approach the process as if it were a funded research project.

"The program has also helped us make connections with other places on campus. We are just one nucleation point for design collaboration. There are many more that are beginning to happen as well. I believe with the addition of the Siebel Center for Design, we will see many more interactions between students from a variety of departments and colleges with the sole purpose of innovating."