University biotech startup receives $750,000 Phase II funding from NSF

A biotech startup at the University of Illinois at Urbana-Champaign has just received a Small Business Innovation Research Phase II funding award of $750,000 from the National Science Foundation to develop a handheld device that even non-specialists can use to quickly detect severe eye injuries, whether it is in a farm field or on a battlefield.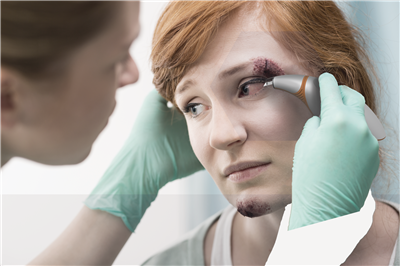 "This technology will transform the current standard of care for eye professionals and enable to have an objective measure that can warn them about possible wound leaks," stated Dr. Leanne Labriola, an ophthalmologist at Carle and co-founder of InnSight Technology. "Our sensor detects ascorbic acid—vitamin C—a chemical that is 20 times more concentrated inside the eye than on the tear film. If there is severe damage to the eye that penetrates deeply, the ascorbic acid will leak out in high concentration. We will be able to identify seriousness of the problems earlier and more efficiently to prevent further complications from wound leaks, including infection and chronic low pressure in the eye of failed surgery."
"The goal of the Phase I project was to demonstrate proof-of-concept of developing a novel biosensor to evaluate the integrity of the anterior surface of the eye by measuring the concentration of ascorbic acid in the tear film at the point-of-care," explained Dipanjan Pan, an assistant professor of bioengineering and director of the Master of Engineering in Bioengineering program at Illinois. "Phase II includes the development a useful biosensor probe and a disposable detection strip to predict ocular integrity. The sensor can be used for assessment of post-surgical wounds, but also for clear corneal or traumatic penetrating wounds of the cornea.
"We are very happy that the technology has evolved quite a bit through our Phase I funding," Pan added. "It is a highly robust project and we have recently published two papers to demonstrate that detection sensitivity can be reached very low with a sample operating volume in microliter range. Phase II funding will enable us to conduct comprehensive clinical studies at multiple sites including Carle Hospital and New York University."
To develop and market this technology, Labriola and Pan co-founded of InnSight Technology, which is located in University of Illinois' Research Park. The company's first product, the OcuCheck sensor, will incorporate a microfluidic chamber that will capture a tear flow sample directly on biosensor chip. Printed circuits board will interface with biosensor strip to provide skinless electrical connection and reading output on screen.
According to co-founders, this technology will impact a large number of patients who undergo ocular surgeries and develop leaking post-surgical wounds each year. The device can also be applicable to other anterior ocular incisions including monitoring of post-cataract (3.6 million surgeries per year in the U.S.) or post-corneal surgeries (50,000 surgeries per year). It will be especially useful for post-operative management in remote areas or third world countries where access to eye specialist is limited.
"Enabling the non-ophthalmologist to be able to accurately diagnose patients with wound complications will decrease the number of unnecessary referrals to specialist making room for the critical patients with acute issues to be prioritized," Labriola said.
"We are very appreciative of the support of Jed Taylor and the team at EnterpriseWorks, the startup incubator at Research Park," Pan stated. "They have been instrumental in finding development funding, and they have offered advice for moving an idea from the lab to the marketplace." The company expects to have OcuCheck on the market within the next two to three years.

Two previously published papers on this technology from Pan's research group include:
Khan MS, Misra SK, Schwartz-Duval AS, Daza E, Ostadhossein F, Bowman M, Jain A, Taylor G, McDonagh D, Labriola LT, Pan D. Real-Time Monitoring of Post-Surgical and Post-Traumatic Eye Injuries Using Multilayered Electrical Biosensor Chip. ACS Appl Mater Interfaces. 2017 Mar 15;9(10):8609-8622. doi: 10.1021/acsami.7b01675.
Gartia MR, Misra SK, Ye M, Schwartz-Duval A, Plucinski L, Zhou X, Kellner D, Labriola LT, Pan D.
Point-of-service, quantitative analysis of ascorbic acid in aqueous humor for evaluating anterior globe integrity. Sci Rep. 2015 Nov 3;5:16011. doi: 10.1038/srep16011.
_____________________