For Thode and Rogers, FEF program paying early dividends
For Thode and Rogers, FEF program paying early dividends
It began as an idea to grow the entrepreneurial ecosystem on the University of Illinois campus and beyond, but for two of the key players in the Faculty Entrepreneurial Fellows (FEF) program, it is paying off more than previously imagined in the program's first year with one of the alumni supporters becoming the CEO of a company developed by one of the first faculty recipients.
The FEF program was developed out of a series of meetings between Andreas Cangellaris, Dean of the College of Engineering; Andy Singer, the director of the Technology Entrepreneur Center (TEC); Jed Taylor, the Director of Operations for the TEC; and alumni Sanjay Srivastava, John Thode, and Andrew Yang. Financially backed by alumni, the program gives faculty time and money to push their technology from the lab to commercialization. It relieves them of their classroom duties to focus on the final stages of research where students play a huge piece in that development.

"The FEF program has been crucial for launching a couple of companies that we started to incubate around this time last year," said one of the first four FEF fellows John Rogers, a professor in the Department of Materials Science and Engineering. "First, it provided some discretionary funding that we needed for the final technical development. Second, it allowed us to add a lot of energy and enthusiasm by getting students engaged in the process. Finally, it gives us access to some accomplished entrepreneurs for advice and counsel."

Rogers was speaking specifically of Thode, who throughout the year became more interested and engaged in one of Rogers' startups, Wearifi, and in February became the company's CEO. Both principals stop short of saying the relationship couldn't have developed without FEF, but agree that the program was the catalyst.

"The FEF program was instrumental," Rogers said. "It gave us an opportunity to get to know each other to decide whether or not this would be a good match. That kind of sustained interaction wouldn't have been possible outside the scope the FEF program."

Thode graduated from Illinois in 1979 with a degree in electrical engineering, and was most recently the president of DigitalOptics, which makes imaging systems for mobile devices. Now based out Chicago, Thode met Singer about a decade ago, and shares his vision for what the startup ecosystem could be in Chicago with institutions like the University of Illinois as its backbone.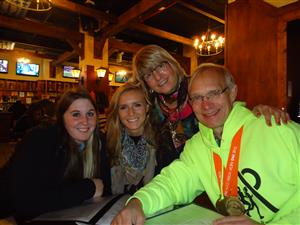 Linked by a mutual interest in long distance running, conversation between Thode and Singer during race weekends eventually led to the duo working together on some TEC initiatives with Thode making a six-figure investment in support of the initiative. Count Cangellaris as someone who also sees the vision of the role Illinois can play when it comes to supporting startups. In the time since being appointed Dean, that vision has continued to take shape. The FEF program is just one of the spokes in the wheel.

"We had to decide what objectives we wanted to accomplish," Thode said of those early meetings. "Were we trying to achieve faculty retention? Was the goal modernization of technology coming out of engineering? Was it visibility for the engineering program? Was it to help with creating a unique experience for students? At the end of the day, the answer was all of the above. That turned into the FEF program."

Although all the parties involved believed the timing was right, the idea took off in a profound way even the brain trust hadn't imagined, with 30 to 40 faculty making significant pitches for their companies before four were ultimately selected for the inaugural class.

"The teams had thought about it in great detail down to the marketing and business side even though in most cases the technologies were often pre proof-of-concept," Thode recalled of the presentations.

Thode visited teams on numerous occasions on his trips from Chicago during the summer and fall, and Rogers' team particularly meshed with his expertise. After six months of discussions, Rogers offered him the CEO position at Wearifi.

"John's involvement positioned us seamlessly to take our technology to the next level," Rogers said. "First, he's an Illinois guy. Secondly, he knows technology inside and out and has spent time in industry. Finally he's also a businessman. It's rare to find someone with his level of talent in both business and technology. He is the perfect person at the perfect time for this opportunity. We've empowered him to make key decisions going forward."

One of the major benefits of the partnership, according to Rogers, was the ability to bypass the usual route of funding from venture capitalists, which involves giving up a lot of the equity. In a short time, Thode has closed out existing research-oriented deals and morphed them into corporate deals.

"We have development deals and contracts with a couple of large companies," Rogers said. "Our hope is to be able to bootstrap the whole thing, moving it forward without any significant venture capital."
Wearifi is a millimeter square wireless wearable, which is integrated into the body on places like a fingernail. Its applications include allowing for wireless monitoring of hospital patients, a seamless and efficient method of payments and transactions (a potential replacement for the ATM card), a source for entrance into concert venues and theme parks, and as a means to access your home (replacing the code boxes).

In the last few months, Wearifi has partnered with a global theme park, which has bought 5,000 devices that are already being used by actual visitors. The company is developing a partnership with a global cosmetic company that makes sunscreen, which is using the technology for environmental sensing, and it has partnered with Carle Foundation Hospital to help monitor ultraviolet light on newborn babies in the NICU.

Thanks to the FEF program, Wearifi has fulfilled a goal of selling product on day one and keeping the company local, with offices currently at the University of Illinois' Research Park, for as long as possible. Rogers says that aspect allows him to have more confidence in the direction of the company because he can be fully engaged in product development.

"I've done a number of startups in the past and one lesson that I've learned is that the U of I has an incredible set of resources," Rogers said. "It has facilities that can really make early stage technology development and product-oriented research in engineering happen quickly and efficiently. We weren't ready or eager to ship this one out to Boston or San Jose."

On a micro level, the partnership, like the one between Thode and Rogers, is one of the many bi-products of a multi-prong entrepreneurial ecosystem being built at places like Illinois.

"I would call the scenes in Chicago and Urbana-Champaign success stories compared to where they were even just a few years ago," Thode said. "Over the last 4-6 years, the Chicago area has blossomed with around 200 to 300 incubators, some of them well-funded. If you walk through the top incubators, you see that academic institutions are present along with a number of other startups that can benefit from each other's experiences as well as investment firms filling out the ecosystem."

Thode, for one, sees the FEF program as a key component of the ecosystem, and like several others, understands it provides the real potential for technology startups to remain in the state instead of relocating to the coasts.

"We want to keep the next generation from immediately getting on a plane and heading to the West Coast," Thode said. "The more opportunity you have to build that ecosystem, the closer you come to closing the gap. I'm quite optimistic about the future where Chicago becomes the Midwest regional epicenter for a dynamic entrepreneurial community able to effectively compete for key talent and investment with Austin, Boston or San Jose."

"Our experience is maybe what Andy had in mind when he conceived of this FEF program," Rogers concluded. "Get students involved and give the faculty resources to do things that they wouldn't otherwise be able to do without outside investment. It would have been infinitely harder, let's put it that way. The full ecosystem in the Urbana area is evolving. The FEF program has been a big part of it."