By changing motion into electricity, Touch Light provides 'green' energy source
This is one in a series of features on competitors in the
2016 Cozad New Venture competition
, a program sponsored by the University of Illinois'
Technology Entrepreneur Center
that is designed to encourage students to create new businesses. The competition process offers teams assistance in the form of: mentors to help guide them through the phases of venture creation, workshops to help with idea validation, pitching skills, customer development, and more as well as and courses to enhance their skills and knowledge. Teams who make it to the final round of competition will have the opportunity to meet with venture capitalists, early stage investors and successful entrepreneurs who will serve as judges. The judges will determine up to eight finalist teams that will present their ventures at the finals event. Last year, these teams competed for nearly $160,000 in funding and in-kind prizes.
No one can accuse Swarnav Pujari of not dreaming big. The freshman materials science and engineering major is creating a way to provide a significant amount of power simply by using the motion of foot traffic. Through his startup, Touch Light Innovations, LLC, Pujari has created Power Pad, which has the potential to produce 100 watts of power for each step taken over it.
"What the Power Pad brings is not a new idea, but a new approach that we strongly believe could revolutionize the energy market," Pujari said. "My goal is for us to be the brand name to go to for energy in the future."
The process for Power Pad is similar to piezoelectric materials, an emerging group of materials that utilize special crystals to generate electricity. In this case, it takes mechanical energy and when applied to the crystal through deformation causes a charge differential. When that charge differential occurs, electricity is formed.
"We are harvesting footfall," Pujari explained. "We're converting that into directional motion, then into electricity and storing all that in a large battery."
The current prototype for Power Pad is a square-foot size device that sits two inches under a surface of any moderate to high traffic area, such as sidewalks, roadways or the halls of large office buildings. The current model produces 10 watts of power per step. At a cost of $20 per foot, it costs roughly 10 percent, but produces five times the energy of its current competitor.
Pujari is confident that with some testing, the product will produce closer to 100 watts per step in the coming year. If he can reach half that goal, it begins to become viable for office buildings of 19,000 square feet or more. With those conservative estimates, Pujari indicates that 20,000 of those devices strategically placed in grand central terminals could produce up to two megawatts of power per day. That 19,000-square-foot office building could install 2,000 of those for a cost estimated around $40,000, but could save $80,000 per year and conservatively make up the purchase price in less than a year.

How this college freshman discovered the technology and is on the cusp of making it a reality is a story in itself. His interest in creating green technology began as a fifth grader when his idea for a vehicle run from a combination of solar, hydro and wind power won a competition sponsored by Ford and was featured in the New York Times.

In high school, Pujari had two interests – baseball and renewable energy. He set up a lab in his basement where he worked on building a device that would be highly efficient and generate large amounts of power. After studying under one of the leading researchers studying piezoelectric generators, that effort quickly leaned toward harnessing mechanical energy from motion and creating electricity.

During Pujari's junior year, a life-threatening bout of pancreatitis left him too weak to make baseball an option, so his focus turned nearly 100 percent on this project. He continued to make strides and impress judges in regional and national competitions, such as the Westchester Science and Engineering Fair, where he won the grand prize, and the Intel International Science Fair, the largest of its kind in the world, where he was a finalist. His technology also earned a gold medal in engineering at the 2015 International Sustainable World Energy, Engineering, and Environment Project (ISWEEP) Olympiad.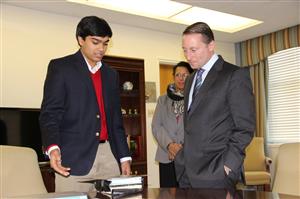 The technology caught the eye of Rob Astorino, the Executive for Westchester County, who invited Pujari to display it at a Westchester Knicks game (the development team for the NBA's New York Knicks). By simply walking across a surface with the device under it, fans were able to illuminate LEDs.

At the University of Illinois, Pujari has secured shared space at Research Park and been working with Paul Braun, a MatSE professor with similar research objectives. Braun and his team have produced a 3B battery from 3D holographic lithography and 2D photolithography. Other players of his team include Gary Durak (operations advisor), a lecturer at the Technology Entrepreneur Center; Wenzhuo Wu (technical advisor), assistant professor in materials science and engineering at Purdue University; and Sushant Pujari (product advisor), who brings several years of product development, incubation, and management experience.

Through the Cozad New Venture Challenge and other funding opportunities, Pujari is hoping to raise $150,000, which would be enough to make a market version of the device and spend the next year demonstrating its potential. For instance he is hoping to set up an exhibit on campus, harnessing energy from footfall to charge cell phones. He is exploring showing how basketball players running across the court could one day light a stadium.

His initial primary target is private businesses and governments, starting with contractors of large buildings. The ultimate goal is that in addition to selling the device, Touch Light would receive a percentage of the cost of energy produced through Power Pad instead of the grid.

"Right now we are a strong low capital supplemental source of energy, which has a fast payback rate and gives businesses that 'green edge,'" Pujari said. "However, this is such a versatile technology that there are so many market segments for it. We want to develop the brand from an outside-in approach by having existing companies with big brands endorse us, then as the technology continues to develop, we can expand our reach. "

Pujari continues to dream big for the future of this technology – a dance floor that lights up through power generated by dancers, a cell phone battery powered simply by movement, traffic powering street lights, gyms powered by treadmills, etc.

"It could revolutionize the entire renewable energy market," Pujari said. "I believe we can literally help solve the energy crisis one step at a time."