Free Skies Drone Control Software Revolutionizing Video Marketing
Free Skies Drone Control Software Revolutionizing Video Marketing
It's not that long ago that capturing photos or video from the air meant hiring a helicopter or airplane pilot to take the photographer overhead. In the vast changing world of drone technology, however, that process is changing, and a group of University of Illinois alumni are creating the software that promises to be the trendsetter in the way video from the air is captured.
Jay Mulakala and Andy Putch, both recent University of Illinois graduates in aerospace engineering, created a start-up called FreeSkies, and the company just released its first product CoPilot, an autonomous mobile based software for drones targeted at videographers, photographers and marketers.
While 2D capability is currently the industry standard, the CoPilot mobile application leverages an intuitive 3D interface, which allows its users to design autonomous missions by selecting a series of 3D waypoints, known as key frames. Not only can the exact flight be captured without the risk of crashing into objects, but the drone's camera can also be programmed to scan, zoom, turn, etc. The entire video can be programmed and edited using a playback feature.
CoPilot currently supports DJI's Phantom 3 and Inspire and is available for a one-time fee of $20. It gives the user the option to have the system fully control the drone and camera direction, but also has a hybrid mode, where it will fly along a pre-programmed path, but let the user control the camera.
"We aren't the drone manufacturer, but the interface that makes its applications possible," Putch explained. "We are using a combination of software development kits and are the glue that holds it all together. We just tell that flight computer to go to a specific GPS location and at what speed and then it does all the heavy lifting."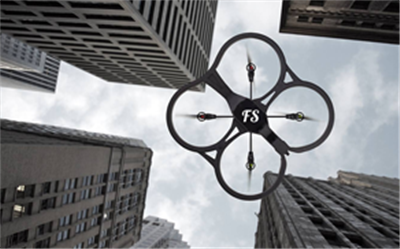 "A typical hobbyist drone is controlled with two joysticks, which allows the pilot to manually fly it," Mulakala said. "However, it is very difficult to try to capture video, photos or other data, while also trying to pilot the aircraft."

"We need to move away from this manual piloting paradigm, but instead transition to a system that leverages that autonomous capability. That's the problem we are trying to solve."

The team is keenly monitoring safety regulations of drones.

"The drone will be very stable," Putch said. "We are trying to leverage this type of software to say we can automate all these sorts of tasks. We check no-fly zones, and weather. CoPilot will enable drones to speak to one another and share each other's flight plans."

FreeSkiesFreeSkies started during the 54 startup weekend competition held annually by Founders before developing it's first iteration in the spring as part of the Cozad New Venture competition presented by the University of Illinois' Technology Entrepreneur Center. That experience helped them settle on a target market and test the business plan before starting to develop code. The team brought in a number of potential users (photographers, construction workers, inspection agents, real estate marketers) to find out the problems they were facing in data collection.

Through a summer fellowship at Lightspeed Ventures, the team doubled its size, conducted Alpha tests, and settled on a target market. They are raising additional seed funds to continue the engineering development and have moved into new offices in San Francisco.

In the process, FreeSkies is building an on-line community where users can share content and flight paths with one another while having much more dynamic control over their flight paths.

"Anyone using the application can download that path, insert themselves into that video and launch that path with their own drone and capture that video," Mulakala said. "For instance, if a renowned real estate agent captured some unique shots around a building and increased sales, that agent could share that path with other agents on the team, who could then download that path and place it over another property they are selling. If you are a national agency and wanted to make sure all your videos are exactly the same, this is a great way for them to send out paths to all of their operators."

In the meantime, FreeSkies is focused on not only getting the consumer version product polished, but also expanding to other enterprise applications.

"One of the reasons we chose this target market is that it is relatively easy for photographers and videographers to get a Section 333 exemption from the FAA," Mulakala said. "Although we have built an application that targets our niche market right now, we are concurrently building a platform that real estate agents, construction workers and inspection companies can leverage in the future. From an industry prospective, we really want this to be the path planning layer within all drone systems across all platforms and partner with drone manufacturers"

"There is a big market with a lot of potential for drones to be used in a huge variety of applications," Putch added. "We believe we have a tool that will enable the next wave of truly autonomous systems. We are partnering with DJI because they control about 80 percent of the market and has solved the hardware issue pretty well. Through tracking and location, we are trying to do that on the software side."