Corvae making wireless heart monitoring possible
Editor's Note: This is one in a series of features on competitors in the 2015 Cozad New Venture competition, a program sponsored by the University of Illinois' Technology Entrepreneur Center that is designed to encourage students to create new businesses. The competition process offers teams assistance in the form of: mentors to help guide them through the phases of venture creation, workshops to help with idea validation, pitching skills, customer development, and more as well as and courses to enhance their skills and knowledge. Teams who make it to the final round of competition will have the opportunity to meet with venture capitalists, early stage investors and successful entrepreneurs who will serve as judges. The judges will determine up to eight finalist teams that will present their ventures at the finals event. Last year, these teams competed for nearly $200,000 in funding and in-kind prizes.
Between the ages of 5-10, Sid Muthal estimates he spent between 1-2 months per year in the hospital battling an illness. As anyone who has been a hospital patient can attest, the visits included having vitals being monitored continuously.
"You may think that even if you are sitting up in a bed, it's no big deal," Muthal said about the wires attaching him to a number of monitoring devices. "I know from personal experience that it is a big deal to not being able to roll over without worrying about things falling out and feeling almost like you're trapped."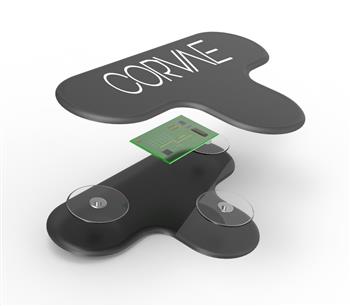 With that experience still engrained in his mind, Muthal, a senior in electrical and computer engineering at Illinois, teamed with classmate Raj Vinjamuri and Michael Luka to create a small, lightweight wireless monitoring system for ECE senior design last fall.

"I am very acclimated with the problems with hospitals from the patient's point of view and for how long it can take for nurses to interact with the doctors," Muthal continued. "I believe it will help with overall recovery because patients no longer have to worry about the vast discomfort that comes with being attached to wires. This has always been in the back of my mind as an area of opportunity."

Muthal, Vinjamuri and Luka claimed one the top three prizes for the senior design course, the Lextech Senior Design Most Marketable Project, which carried with it $1250 to continue the idea.

"Wining the Lextech award really motivated us to pursue the technology," Vinjamuri said.

Over the course of the last four months since the completing the class, Muthal and Vinjamuri have continued to refine the idea, worked on a business plan and expanded their team to include industrial designer Ryan Brown, industrial engineer Julie Polaski and software engineer Jake Dluhy under the umbrella of a startup called Corvae. The Corvae team is a finalist for the Cozad New Venture Competition, which will be decided at this Friday's Entrepreneurship Forum on campus.

While Corvae wants to provide comfort and benefit to the patient, the group is also touting the efficiency of the system, which will benefit nurses, physician's assistants, doctors, and hospitals. Starting with the heart, its product can detect arrhythmias in real time, which will alert medical staff to factors leading to potential strokes or heart attacks and allow them to provide preemptive measures ahead of time.

When based on the arrhythmias, a patient reaches a danger zone, the monitors, or perhaps the patient's gown, would change colors and alert immediate responders, the nurses, to the change.

"Nurses need to constantly be up-to-date on how to read EKG wave forms," Vinjamuri said. "This method is far more intuitive and easy to read. Being able to walk in and look at a light and immediately know the status of the patient is incredibly powerful. We feel that will give nurses more confidence and enable them to assist the patient so much better."

"We are very careful not to alarm the patient," Vinjamuri added. "They'll be indicators that the nurses would know that are color-coded and simpler than reading a wave form. Right now information is being relayed to a central nurses station, where oftentimes someone is responsible for constantly reading the data. Having a more automatic color alert system could streamline that process."
Corvae would also give doctors remote access to patient data and faster electronic medical recording. The team is developing an app, which would allow doctors to pull up data on multiple patients and aggregate the information on mobile devices. The doctors would have the choice of looking at the raw data or the processed information. The entire system would be much more cost-effective than the current system most hospitals use.

Another application would be through remote monitoring. For instance, if a patient experiences chest pains, often doctors would send the patient home with a Holter Monitor, which records arrhythmias, but they rely on the patient to write down specific times when they feel pain and discomfort. Corvae's device would allow a doctor to immediately notice any abnormal heart activity.

The fact that doctors can see information on smartphones could also have a game-changing impact on treating patients in the developing world. Muthal also notes that new insurance laws have made it easier for hospitals to purchase new technology and insurance companies are more receptive to preventative measures that will save them money long-term."

"When medical devices are made, they are not always done so with patient comfort in mind," Muthal reiterated. "When you package that with a new way to convey information, you make the entire process easier which is going to change how hospitals gain new technology. We hope to ride the wave of the explosion of biotech companies."

"If you are going to introduce it to the medical community, you need medical connections to back you up," Vinjamuri noted.

To that end, Corvae has been getting positive feedback from local physicians and research doctors at the University of Chicago. They have also been working a company that runs simulations in hospitals to test the technology, SIMnext.

With a full team in place, Corvae engineers are working on the next prototype, making the device smaller and more robust, and improving the battery life. On the business side they have had positive interaction with other biomedical startups at Enterprise Works, the University of Illinois' tech incubator at Research Park. With the Lextech prize and support from the Leung Student Venture Fund, Corvae has yet to have any out-of-pocket expenses. The team is maintaining a presence on campus uninterrupted by the summer through participation in the Summer Entrepreneurship Fellowship.

"Cozad provides a great structure to help us build our business and understand our next steps," Muthal said. "At the end of Cozad, we'd like to have a far more effective prototype and a solid business plan."

"Heart monitors are nothing new, it's the form factor and the portability and the interaction with the data that is new," Vinjamuri said. "There are competitors that are in the self-monitoring space. The difference for Corvae is that we are targeting benefits to doctors and patients in a healthcare setting. We feel pretty optimistic about where Corvae's product platform can go."