$12 million gift launches Sidney Lu Center for Learning and Innovation
The University of Illinois at Urbana-Champaign today announced a $12 million commitment from alumnus Sidney Lu to build the Sidney Lu Center for Learning and Innovation within the Department of Mechanical Science and Engineering (MechSE).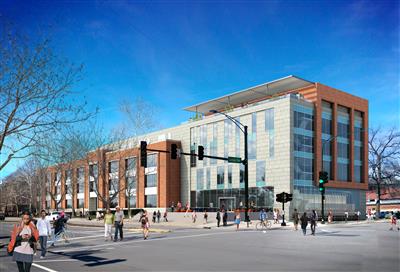 "Sidney Lu is a self-made success story. His accomplishments are an inspiration to our current students and his generosity will have a profound and lasting impact on our future students," said Chancellor Phyllis Wise. "Major gifts of this type drive critical improvements on our campus that will better prepare the next generation of leaders."
Construction of the Lu Center will coincide with the renovation of the entire Mechanical Engineering Building, which is expected to start in early 2017. Located at the intersection of Green Street and Goodwin Avenue in Urbana, the five-story, 36,000 square-foot addition will feature an open-architecture innovation and design commons. It will include state-of-the-art tools and equipment, active learning classrooms, and expansive areas for student collaboration that will support study groups and project team work.
Active learning classrooms will incorporate new ways of integrating teaching, learning, and technology—advanced concepts for solving real-world challenges with hands-on design that complements theory and instruction better than ever before.
"In this space, imagination and engineering will become one," explained Andreas Cangellaris, dean of the College of Engineering. "Sidney's immense loyalty to Illinois, and his vision for fostering creativity and inspiration in our students will open up a world of possibilities and new ideas."
Sidney Lu, who graduated from the University of Illinois in 1981 with degrees in mechanical engineering and mathematics, is a world leader in technology. Based in Taiwan, Lu serves as the first chairman and CEO of Foxconn Interconnect Technology which provides joint-design, joint-development, manufacturing, assembly, and after-sales services to computer, communication, and consumer electronics leaders.
"We are committed to developing tomorrow's technology leaders," said Placid Ferreira, head of the MechSE department. "These efforts will soon get a turbo boost—a new environment that fosters learning, creativity, and innovation—facilities that invite and inspire them to spend time interacting, learning, and growing with their peers."
With more than 50 full-time faculty members, including many renowned experts in their individual disciplines, the Mechanical Science and Engineering department is consistently ranked among top undergraduate and graduate programs in the United States. It has been home to several internationally prominent research centers, including the Center for Nanoscale Chemical-Electrical-Mechanical Manufacturing Systems (Nano-CEMMS), the Center of Advanced Materials for Purification of Water with Systems (WaterCAMPWS), and the International Institute for Carbon-Neutral Energy Research (I2CNER).
MechSE offers a rigorous engineering curriculum with hands-on activities, learning-by-doing projects, and team-based problem-solving—essential complements to classroom instruction. The Sidney Lu Center for Learning and Innovation will provide the technology and tools to support these activities.
In 2013, a $5 million gift from Lu supported creation of the Tungchao Julia Lu Professorship in Mechanical Science and Engineering (named for his mother and currently held by Professor Placid Ferreira) as well as new student scholarships and other department projects. This weekend, Sidney Lu joins the class of 2015 recipients of the College of Engineering Alumni Award for Distinguished Service, in recognition of his outstanding leadership, service to and commitment to the field of engineering, society at large and his impact at the University of Illinois.