Cheng chosen as AIMBE Fellow
The American Institute for Medical and Biological Engineering (AIMBE) has announced the pending induction of Jianjun Cheng, associate professor of materials science and engineering and Willett Faculty Scholar, to its College of Fellows, "for outstanding contribution to the development of polymeric biomaterials and translational nanomedicine." The College of Fellows is comprised of the top two percent of medical and biological engineers in the country.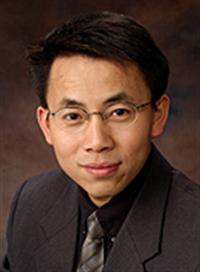 Cheng joined the MatSE faculty at Illinois in 2005. His research is focused on design, synthesis, characterization and evaluation of polymeric and nano-structured biomaterials for fundamental studies as well as their biomedical applications. In keeping with the broad scope of multidisciplinary areas covered in his research, Cheng is also a faculty affiliate of the Department of Chemistry, the Department of Bioengineering, The Beckman Institute, the Institute of Genomic Biology, the Materials Research Laboratory, the Micro- and Nanotechnology Laboratory, and the University of Illinois Cancer Center.
He received a BS degree in chemistry from Nankai University, China, a MS degree in chemistry from Southern Illinois University, Carbondale, and a PhD degree in materials science from the University of California, Santa Barbara in. He was a senior scientist at Insert Therapeutics, Inc. from 2001 to 2004, and a postdoctoral fellow at MIT from 2004 to 2005.
Cheng has been named to the list of Teachers Ranked as Excellent by Their Students at Illinois five times, and he was named a Willett Faculty Scholar in 2013. Cheng is the recipient of a Prostate Cancer Foundation Competitive Award (2007), a NSF Career Award (2008), a Xerox Award for Faculty Research (2010), and a National Institute of Health Director's New Innovator Award in 2010. He is currently an Associate Editor of Biomaterials Science.
AIMBE Fellows are regularly recognized for their contributions in teaching, research, and innovation. AIMBE Fellows have been awarded the Presidential Medal of Science and the Presidential Medal of Technology and Innovation and many also are members of the National Academy of Engineering, Institute of Medicine, and the National Academy of Sciences. A formal induction ceremony will be held during AIMBE's 2015 Annual Meeting at the National Academy of Sciences Great Hall in Washington, DC on March 16. Cheng will be inducted along with 150 colleagues who make up the AIMBE College of Fellows Class of 2015. For more information about the AIMBE Annual Meet, please visit www.aimbe.org.
__________________