The Grainger Engineering marketing and communications team develops print, digital, and social media strategies and executions that build our reputation and impact as one of the world's very best engineering programs. We focus on three areas critical to our success: advancement and corporate relations; student recruitment; and efforts to enhance our reputation among our peers and the broader community.
Start by visiting the campus brand strategy website for universal strategy guidelines, messaging guidelines, graphic design assets, and more tools and resources.
At this time, unit wordmarks for primary academic units only are available. You can find wordmarks for The Grainger College of Engineering here.
View examples for how to include unit-level identification across various digital, print, display, and promotional materials—and request help with specific applications.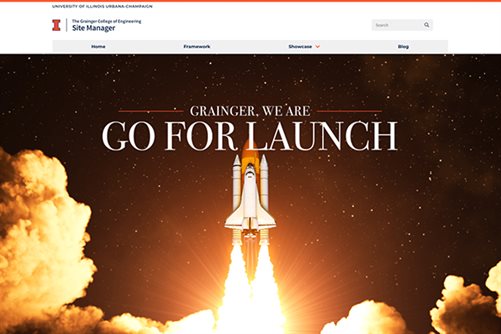 Your home for website development resources, instructions, templates, best practices, must-haves, what-ifs, and open discussion.
Whether you're sending an event invite, newsletter, or a one-time announcement, we have pre-made templates optimized for current content and design best practices.
Use these standardized templates to create professional presentations representing your department, unit, or research work following campus brand standards.
Standardized sizing for images for different posts across social media channels; with templates that include campus-standard photo overlays and graphic treatments.
How we tell the Grainger Engineering story on social media; with channel-specific guides for messaging, accessibility, and measuring success.
Need help?
Whether you're just getting started or stuck on your communications project, we're here to help.