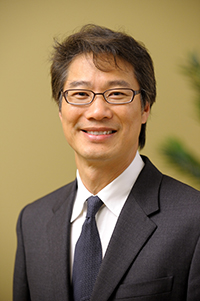 Co-Founder, Apache Design, Former Vice President, ANSYS
BE, 1983, Electrical Engineering and Computer Sciences, University of California-Berkeley
MS, 1986, Electrical and Computer Engineering, University of Illinois at Urbana-Champaign
PhD, 1989, Electrical and Computer Engineering, University of Illinois at Urbana-Champaign
Andrew Yang has been one of the most influential people in the electronic design (EDA) automation industry for nearly three decades.
Yang co-founded Apache Design Solutions in 2001, and served as the CEO from its inception. Apache provides low-power analysis and optimization solutions for high-performance, energy-efficient semiconductor integrated circuits (ICs). The company was ranked as one of the top 15 fastest growing software/IT companies in Silicon Valley in 2008, and one of the 500 fastest growing technology companies in North America in 2009 by Deloitte's Fast 50 and 500 programs. Apache's low-power products have been adopted by 90 percent of the top 25 semiconductor companies in their signoff flow.
In 2011, Apache was acquired by ANSYS, Inc., a global leader in engineering simulation software and technologies for a broad spectrum of industries as a wholly owned subsidiary. Yang served as president of the subsidiary and vice president and general manager of ANSYS until 2014.
From 1998-2002, Yang was a lead investor and a board member in more than 10 companies with many of them acquired by scale-driven public companies looking for deeper expertise in design automation of semiconductor devices, Those included CADMOS and Ultima (both acquired by Cadence), Innologic (acquired by Synopsys), and Mojave (acquired by Magma).
In 1993, he founded Anagram, providing high-capacity circuit simulation for submicron ICs. In 1996, Avanti acquired Anagram, and Yang served as the vice president responsible for IC extraction, simulation, and analysis products until 1998.
Yang is a visionary in both research and entrepreneurship. He was a tenured professor at the University of Washington from 1989-96 and was the university's commencement speaker in 2012. He received the Science Foundation Young Investigator Award in 1991, Professor of the Year award in 1992, and Chair's Circle of Excellence in 1998.
He received the Distinguished Alumni Award from the Department of Electrical and Computer Engineering at Illinois in 2010 and was the Robert T. Chien Memorial Research honoree from ECE Illinois in 1989. Through a $1 million gift in 2013, he established the Andrew T. Yang Research Award in ECE, which supports one grad student and one faculty member as they work together to take on risky research that could add value and wealth to the University of Illinois, the state, and the nation.