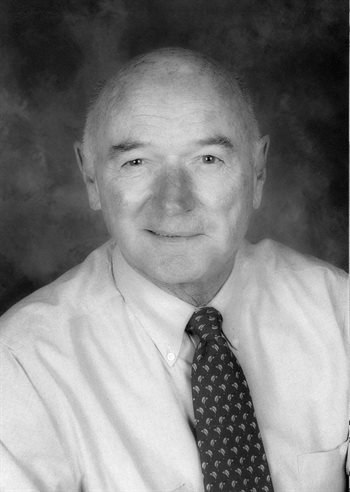 Executive Vice President, Western Region, Questron Distribution Logistics, Milpitas, California
BS, 1961, Engineering Mechanics, University of Illinois at Urbana-Champaign
MS, 1962, Theoretical and Applied Mechanics, University of Illinois at Urbana-Champaign
Phillip Schwiebert started his career with IBM and later General Motors working in research as well as teaching mechanics and failure analysis in an industrial setting. Desiring challenges beyond research, Schwiebert joined MacLean-Fogg, a small railway supply company in Chicago, as manager of their securement systems operation. Driven by competition, Schwiebert designed, patented, produced, and sold many devices to hold in place equipment shipped by rail. Transferring that knowledge to the trucking industry, Schwiebert started his own firm, Transport Systems Co., which produced securement devices for highway trailers. When this company became operational, Schwiebert moved on to the business world with successive positions at Gould, Inc., and then to Amphenol, a connector manufacturer, as vice president of marketing and sales.
Intrigued by the world of electronic component distribution, Schwiebert joined Arrow Electronics, a distributor of Amphenol products, in a sales management position. In what would be Schwiebert's last step in his business career, he and a partner purchased the Fasteners Division of Arrow and took the company public. Known as Questron Distribution Logistics, they specialize in logistics management of fastener-related items for large OEMs such as Cisco, Applied Materials, and Abbott Labs. The company today has 35 stocking locations in the United States and Mexico, with sales exceeding $100 million.
While working at Amphenol, Schwiebert was contacted by Professor Richard Hill (now emeritus) of the University of Illinois College of Commerce. Head of the Industrial Distribution Management Program at that time, Hill asked Schwiebert to speak to students on campus about his business experiences. The result was a 20-year relationship in which Schwiebert returned to make annual presentations in Hill's classes, including MBA students in the capstone course.
Schwiebert, in his annual visit, always included the professors in his Theoretical and Applied Mechanics Department and occasionally was enlisted to speak with engineering students. He was also the guest speaker at the 2001 TAM banquet and awards convocation. A strong supporter of TAM and the sustaining, educational value it has provided him over 29 the years, Schwiebert, along with his wife Nancy, established the Robert E. Miller Scholarships and Fellowships Fund to honor his mentor and esteemed TAM professor emeritus, to reward excellent work by students, and to recruit new students. Schwiebert has said that his TAM experience, including the faculty and particularly Professor Miller, was and remains the defining point of his life as he moved on to the business world. In addition, being given the opportunity to return to campus and give something back through the lectures and the Miller Endowment is truly gratifying.
Current as of 2002.