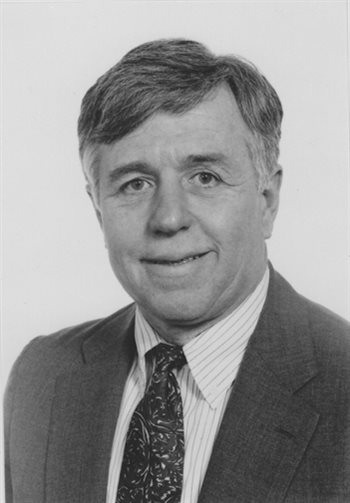 Chairman, Aircraft Gear Coproration, Rockford, Illinois
BS, Mechanical Engineering, 1967
Dean Olson is an astute business person as well as a creative engineer. His knowledge and skills as an engineer, years of experience in manufacturing and product distribution, and outstanding leadership ability have transformed a firm that was becoming less competitive and profitable. His leadership exemplifies the impact that one individual can have in transforming an industrial firm.
After receiving an MBA degree from Northwestern University, Dean Olson served in the U.S. Army. Since joining Rockford Acromatic Products Company in 1971, a subsidiary of Aircraft Gear Corporation, he has maintained an outstanding record of achievement in both engineering and engineering management. Rockford Acromatic is a diversified manufacturer of automotive and aviation power transmission components. As president, he successfully converted an outdated manufacturing division into a highly productive facility. He developed a unique automotive-aftermarket catalog format and supply capability that changed the way front-wheel drive cars are serviced. This provided a way for the U.S. mechanics to enter the new driveline field with U.S. products, enabling them to compete in an area previously dominated by foreign supplier. He also developed a successful product line to manufacture and distribute constant-velocity driveline rebuild components and develop an injection molding system.
When he became chairman of Aircraft Gear Corporation in 1987, he created a new corporate subsidiary in Chandler, Arizona, that employs more than 100 highly skilled machinists and technicians. Today, Dean Olson is chairman of a multimillion dollar corporation that is probably the world's largest dedicated producer of gears and assemblies for commercial and military aircraft. Among his management accomplishments was an innovative, corporate-wide, self-funded employee health benefit program that significantly improved the health care provided while reduced overall costs.
Leadership in public service in the Rockford community has been an important part of Dean Olson's life; he was director of the Rockford Chamber of Commerce and director of the local chapter of the American Cancer Society. A strong advocate of education, he fostered the growth of Rock Valley Junior College. He served on the Alumni Board of the Department of Mechanical and Industrial Engineering at UIUC since 1982 and was 1 of 3 alumni who led a campaign to build an endowment for the M&IE teaching fellowship. Other support for the department includes providing students with the opportunity to work on their senior design projects at Aircraft Gear Corporation. In 1991, he received the M&IE Distinguished Alumnus Award.
Current as of 1994.