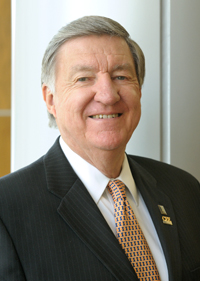 Private Consultant, Former Owner/Senior Vice President, MACTEC Federal Programs, Cincinnati, Ohio
BS, 1966, Environmental Engineering, University of Illinois at Urbana-Champaign
MS, 1968, Environmental Engineering, University of Illinois at Urbana-Champaign
Nationally recognized over the past four decades as one of the major contributors to the advancement of industrial water and wastewater treatment designs and systems within the environmental engineering profession, Paul Koch has served hundreds of municipal, state, federal, and industrial clients across the United States. Following graduation, he served for two years as a Commissioned Officer in the U.S. Public Health Service and has worked for the past 43 years as a consulting engineer. He has been the owner, corporate officer, and/or chief engineer of three consulting engineering companies and currently serves as a private consultant, supporting the efforts of several firms across the country to provide engineering, construction, and IT services.
Since 1971, he has been a pioneer in the development and application of GIS technology for environmental engineering and water resource projects and has experience in all aspects of environmental engineering, including planning, design, construction, facilities operation, and financial/management support, and has provided professional engineering services in all media—water supply, storm water, wastewater, solid/hazardous wastes, and air quality. He has been a registered professional engineer in six states; a certified wastewater treatment plant operator, and a board-certified Environmental Engineer. He has published and/or delivered more than 80 technical and professional papers, publications, and presentations and has served on or chaired numerous local and national boards and committees of professional societies.
Koch and his wife, Barbara, are life members of the University of Illinois Alumni Association (UIAA), and President's Council Members of the U of I Foundation supporting the Department of Civil and Environmental Engineering, has actively supported the Department of Civil and Environmental Engineering (Koch Academic Scholarship in Civil and Environmental Engineering), the UIAA, and the Division of Intercollegiate Athletics (DIA). Koch has served as a member of the College of Engineering's Dean's Club and its Advisory Board and was president of the Civil and Environmental Engineering Alumni Association Board, where he spearheaded development of its strategic plan and chaired the Alumni Relations and Alumni-Student Mentoring Committees. He has delivered more than a dozen technical and professional presentations and lectures at the University and has supported the DIA's "CHAMPS" program, providing mentoring to student athletes in his profession.
He has been honored by the University as a Distinguished Alumnus of the Department of Civil and Environmental Engineering, a Chi Epsilon, Alpha Chapter Honorary Member, a UIAA Loyalty Award Recipient, and, most recently, as the recipient of the 2012 University of Illinois Distinguished Service Award.
Current as of 2012.