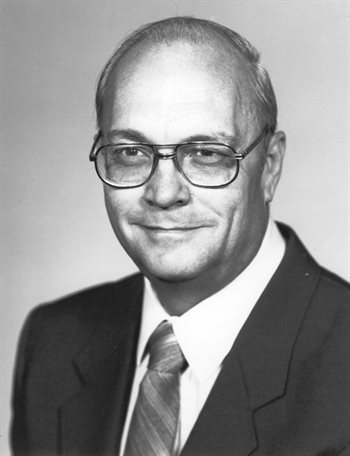 Deputy Chief for National Resource Projects, U.S. Department of Agriculture, Soil Conservation Service, Washington, D.C.
BS, Agricultural Engineering, 1953
Mr. Hass joined the Soil Conservation Service (SCS) in 1956 as an agricultural engineer. After receiving his master's degree in civil engineering from Stanford University, he became state conservation engineer for SCS in Illinois in 1964. In 1968 he was assigned as assistant state conservationist in Pennsylvania and in 1969 he was promoted to the SCS national office in Washington D.C., where he has held several positions in water resources. He became assistant administrator for water resources in 1975 and was promoted to his present position in 1980. As deputy chief he directs 200 resource conservation development projects throughout the United States. Mr. Hass played a key role in implementing plans to reduce the salinity of the Colorado River, a project important to improving U.S. relations with Mexico. He recently led the effort between SCS and the U.S. Fish and Wildlife in developing guidelines on channel modification which have been hailed as a major step toward cooperation between environmental and food production interests. He has received the Career Education Award, two Certificates of Merit, and the Superior Service Award of the USDA.
Current as of 1982.