New First-Year Student Registration
Welcome to the Grainger College of Engineering! This page provides resources and details for new incoming first-year students. NSR is an abbreviation for New Student Registration.
WHAT
New Student Registration is required for each student that accepts admission to enroll at Illinois. This is your time to officially become a student at the University of Illinois. During your registration day you'll learn about curriculum requirements for your major, classes required graduate, and receive your 1st schedule of classes.
WHERE
New Student Registration online is due to the impacts of the pandemic for summer 2021. Exact locations (zoom links) will be sent to you via email in your confirmation emails 4 business days in advance.
WHEN
Enrollment
New Student Registration takes place June – mid July and the week before classes for first year students. Departments offer advising on certain dates during this time period. The dates you see when you sign-up via your Admitted Student Checklist are the dates your department offers that still has spots available. If you are interested in registering for summer classes at UIUC (classes start June 14th) you must submit a Term Change form via your MyIllini account. It has to be approved by The Office of Admission and your Registration Date has to be the week of June 7 – 11th.
Conflicts
If you have a conflict with all dates offered contact the Office of Undergraduate Admission. We strongly encourage you to make yourself available during one of the dates offered to avoid having to wait until August for registration.
Advising Appointments
You will receive your advising appoint via email 4 business days before your Registration Date. Be sure to check your Illinois email account as well as the email you used to apply. Check your spam and junk mail folders as well. If you still haven't received a notification email engineering-nsp@illinois.edu.
Orientation Programs
How (Steps to Register for classes)
Engineering Registration Team will arrange an appointment on your behalf with your department advisor or a college advisor. This appointment could be online or in-person.

Online: You will be emailed your exact appointment time CDT and advising 4 business days before your registration date.
In-Person: You will receive your exact appointment time, location, and advisor the day of the program. Please arrive to the designated location you've received from the Office of Undergraduate Admission to start your Registration Day.
Learn about courses offered specifically for you through the Grainger First-Year Experience office.
Immediately following your advising appointment join the Engineering Registration Help Room at go.illinois.edu/ENGRegistrationHelp during the designated times mentioned in your appointment email.

Your new student hold will be lifted within 12 hours after your advising appointment. You'll have 72 hours to register before your hold is replaced. Afterwards your hold will be removed the Friday before classes start.
Use the Course Registration Agreement that is emailed to you after your advising appointment to sign up for the classes denoted by your advisor.

To register for classes log into your Enterprise Self-Service Account with your NetID and password

Grainger College of Engineering Resources
CENTER FOR ACADEMIC RESOURCES IN ENGINEERING (CARE)
The Center for Academic Resources in Engineering (CARE) enhances the learning experience for all undergraduate engineering students through academic support, enhancing collaborative learning opportunities, and providing positive influence through peer mentoring.
ENGINEERING CAREER SERVICES (ECS)
Engineering Career Services (ECS) at Illinois provides students and employers with expert and experienced career management services. Whether you are just beginning to research careers or are seeking a full-time job, the ECS team is your career search partner.
ENGINEERING INTERNATIONAL STUDENT PROGRAMS
Engineering International Student Programs enhance international and domestic student success through academic, professional, and leadership development! We encourage networking with students, faculty, and staff and partner with engineering and campus-wide liaisons.
GRAINGER ENGINEERING FIRST-YEAR EXPERIENCE (GFX)
The Grainger Engineering First-Year Experience is an interdisciplinary program designed to enhance the learning experience of every first-year student in Engineering at Illinois. Our goal is to support your aspirations by laying a solid foundation for your collegiate career.
INTERNATIONAL PROGRMS IN ENGINEERING (IPENG)
Study abroad in your major! Our office provides you with support and access to pursue studying abroad as an engineering student and staying on track with your engineering curriculum.
MORRILL ENGINEERING PROGRAM (MEP)
The mission of the Morrill Engineering Program (MEP) is to empower African American, Hispanic, and Native American engineering students, support their success as scholars, and leverage a community of students, staff, and alumni to achieve excellence in engineering. MEP hosts a variety of activities throughout the year to enhance the student experience.
MORE THAN 50% OF UNDERGRADS DO RESEARCH IN GRAINGER ENGINEERING
Undergraduate research opportunities abound with 2,000+ interdisciplinary research projects. You can participate in this groundbreaking research in the 60+ laboratories, research centers, and institutes across campus. Build valuable skills, work alongside engineering leaders, and change the world even before you graduate.
WOMEN OF ENGINEERING
PROGRAM (WIE)
The community of women at Illinois Engineering is stronger than ever. Over the past few years, we have grown our community to 25%. It is because of our focus on innovation, collaboration, and success that women make a difference in people's lives through engineering here at Illinois. Women in Engineering is a college-wide program dedicated to providing a welcoming and supportive environment for students in the College.
Campus Resources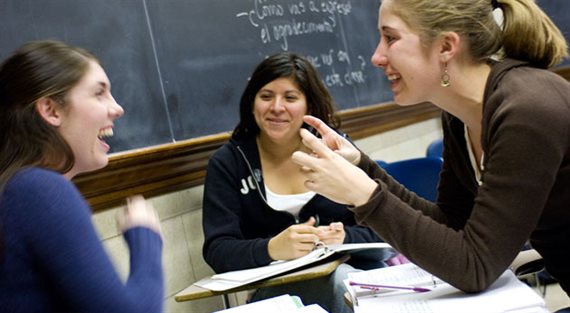 Disability Resources & Education Services (DRES)
The mission of DRES is to ensure that qualified individuals with disabilities are afforded an equal opportunity to participate in and benefit from the programs, services and activities of the University of Illinois at Urbana Champaign through the identification and enactment of reasonable modifications to institutional policies and procedures, the provision of effective auxiliary aids and services, the establishment of innovative educational services, and the pursuit of interdisciplinary disability research.
Office of Dean of Students (ODOS)
A central place for all life events and questions. The Office of the Dean of Students seeks to facilitate the integration of the academic experience of students with all aspects of university and student life. The Office facilitates interactions among students, faculty and staff to promote a campus climate which supports students' academic success and their personal and professional development.
McKinley Health Center (MHC)
Using McKinley couldn't be easier. If you're sick and think you need to visit McKinley, in most cases you'll start by contacting Dial-A-Nurse at 217-333-2700. This health care professional will answer many of your questions and suggest a course of action including scheduling an appointment if indicated. You can also schedule an appointment yourself on-line or by phone.
Counseling Center
The Counseling Center is committed to providing a range of services intended to help students develop improved coping skills in order to address emotional, interpersonal, and academic concerns. The Counseling Center provides individual, couples, and group counseling. All of these services are paid for through the health services fee. The Counseling Center offers primarily short-term counseling, but we do provide referrals to the community when students could benefit from longer term services.